May 15, 2023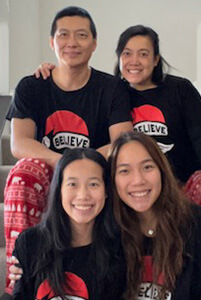 What's the best thing about being part of the MPA community?
A bit of context–our family is an international nomad and our kids have studied in international schools in Thailand, Singapore, Vietnam, and China. What we seek in a school is positive diversity (not just cultural but viewpoints), appropriately challenging academics, a small teacher-to-student ratio, a small and tight-knitted community, and warm and welcoming educators and administrators. MPA ticked all the boxes and can easily rival any top international schools we've experienced throughout our moves.
What is your favorite MPA tradition or event?
We love the orchestra. Our daughter is not much of a musician, but she enjoys the supportive environment and the opportunity to perform with her friends.
Complete this sentence, "MPA teaches my child…
to be caring, curious, and courageous (3C's).
If your child has attended another school, how has your experience at MPA been different?
One key difference is the international aspect, given the number of overseas students. We don't have "Grandparents Day" as most kids are away from their extended family (like us), so events are more cultural in nature.
What advice do you have for another family considering MPA?
Come and visit the school, talk to the other families, and experience why we all have chosen MPA. We picked MPA from a wide variety of options during the pandemic, despite not being able to visit in person, because of how caring, thoughtful, and respectful the admission team had been. We felt our child would be in a very caring and supportive environment, and we are happy that we made that choice.
In what ways has MPA prepared your child for life in the 21st century?
We believe a child has to be caring, curious, and courageous to be successful.