May 22, 2023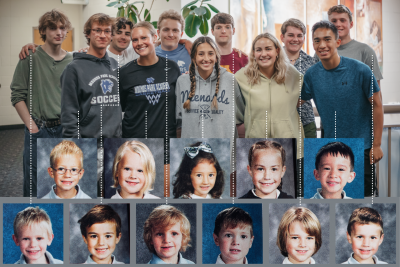 In the spring of 2011, some of the littlest dreamers in the school were wrapping up their first year together. These members of the Class of 2023 were sprinting around the track and testing their throwing skills at Track and Field Day, graduating from kindergarten, and nestling together to watch the seniors, the biggest kids in the school, say their bittersweet goodbyes at the Yearbook Assembly.
This week, they are those seniors, concluding their time at the only school they've been at for their entire academic career. As they graduate on June 3, 11 of them join MPA's Joanne Olson Club, reserved for students whose entire K-12 or PreK-12 journey has taken place here at MPA.
Recently, members of this group–Henry Galicich, Aidan Harms, Griffin Jones, Nicholas Larson, Gabby Magistad, Jack Peterson, Freya Rahm, Henry Seum, Siri Springer, William Tan, and Anthony Troullier–gathered together for a group reflection on their MPA journeys. After all, who knows more about the MPA community than the students who joined in kindergarten and now leave the school as young adults, each bound for college and charting their own paths?
MPA teachers foster the ability to solve authentic, real-world problems. Students are empowered to be architects of their education, and furthermore, their lives. So we asked,
How has being a student at MPA shaped you?
Freya: My communication skills have definitely developed because of MPA. I'm able to express how I feel and what I need to say. I feel prepared to answer questions, and when I was applying for jobs, I felt ready.
Nicholas: Adding on that, we do a lot of class presentations and public speaking, and I think that's an aspect that MPA students are really good at. On my swim team, we have to do something similar to senior speeches–when you graduate, you give a speech to the whole swim club at the end-of-the-year banquet. And a lot of my teammates were really nervous. But it was just another speech for me.
Siri: Also, we have so much one-on-one time with our teachers. Talking to them helps. You learn to talk to adults and it's encouraging for things like interviewing for jobs.
Jack: For me, in the beginning of high school, learning wasn't the priority–it was the grades. And then that kind of switched, especially with Ms. Kunze while I was in "Diary of a Wimpy Kid." She helped me over the summer since I missed Spanish for two months straight. So instead of taking classes because my college is going to like the way they look, or because I could get a good grade in it, I take them because it's what interests me. Editor's note: Jack was cast in the Children's Theatre Company's "Diary of a Wimpy Kid the Musical."
Anthony: As a child, I always loved science and math. And the teachers here have really expanded my love. Mr. Ethier was so much fun in his class in Middle School. And so is Mr. Shapiro every day in physics and in robotics as well. All the teachers here are so great at making you love learning.
Editor's note: Anthony is studying mechanical engineering next year at Michigan Tech University.
Henry S.: I have had a lot of teachers who give kids the opportunity to figure things out without directly telling them. It's especially prevalent in physics class, where a lot of our labs involve getting the guiding questions and coming to the point on our own. I think it's valuable that so many teachers allow us to do that. And I think that translates into great skills. Being able to work under pressure and problem-solving is a huge part of everybody's professional life.
MPA's rigorous education challenges students by instilling a deep understanding of what they are learning. We deeply value purposeful academic rigor in a hands-on, experiential, college-prep environment. So we asked:
How has MPA prepared you for academic and professional success in addition to a meaningful life?
Henry G.: I would say organization and effective communication. Yearbook and student council have been really helpful, and I think they will be helpful in the future, having the skills I've developed through those activities.
Freya: I feel like MPA sports, specifically by having a smaller team, has given me and other people more opportunities. And I also feel that yearbook is one of the best classes to prepare you for the real world. It gives the best structure to how a real career looks, and it handles every single thing that you need to do. Editor's note: when asked what it was about yearbook that prepared students for life–deadlines or working on a team–their reply was: "Yes. All of it."
We have many excellent public schools in the Twin Cities, and families often ask what they can expect from the return on investment in an MPA education. So we asked:
Why did you stay at MPA through 12th grade?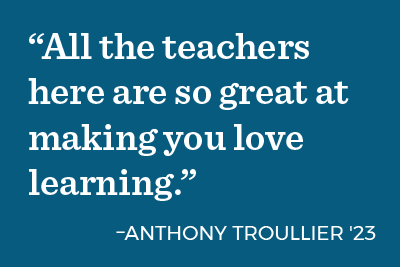 Jack: I was thinking of going to SPCPA because I really like performing arts, and it's a school that's dedicated to that. I did a tour and I looked into it and I talked to people who went there and people who switched from there to MPA, and they said that the arts were comparable here. I also sat in on a lot of academic classes. I was shadowing a junior, while in eighth grade myself, when I decided, "No. I want both sides." I wanted to have good arts, but I also want to have good academics. Because that's important to me.
Siri: The thing that really kept us here was small class sizes, especially in Lower School. And the connections that I was able to build with my teachers from kindergarten on.
Freya: There were times that I wish I had a bigger place, but I also think that there are upsides or positives to that. Like how now I babysit for my Lower School French teacher. So I think that you keep the connections that you have–I remember every single one of my teachers and they remember me. I know that wouldn't be the case at another school.
Siri: The best part is in the hallways nowadays, when they'll be like, "Where are you going to college?" and I get to talk about that with my former teachers.
Henry S.: I considered switching schools. My mom influenced my choice to stay here, but looking back on it, I know that was a good thing. The reason I considered switching in the first place was because socially, I wanted to be in a bigger school. I had friends from other schools, and I liked them a lot. But looking back on it, I was still able to maintain those friendships with friends from different schools and meet people from other schools. The quality of education that I got here compared to other schools is much higher. All the teachers are intelligent in their own field, they bring current events into class, and they make you explore your own thoughts and beliefs.
The MPA community is robust, built upon shared values and firmly committed to freethinking, collaboration, diversity, and connection. When choosing a school for 13 years, you're growing up within a community where you are known. So we asked:
What is the best thing about this community?
Jack: The relationships we have with our teachers.
Henry G.: I was going to say the same thing. I don't know many students who voluntarily go on field trips in the summer with their teachers, but I've done that multiple times. I think relationships are a huge piece. They know you, you know them. Editor's Note: Jack and Henry are both attending an MPA field trip together as alumni this summer.
Siri: The PreK-12 aspect, where we stay connected, even though we're in Upper School now. Just seeing Lower Schoolers in the hallways and seeing their smiles.
William: I think student-teacher relationships were best reflected during COVID. Other schools didn't really have Zoom meetings between their students and the teachers. It was just classes that were separated and teachers giving students work to do. But we had classes almost every day with our teachers.
Jack: I feel like a lot of places kind of dipped during COVID just because they had to, but I don't feel like MPA really did.
At MPA, we celebrate a culture of camaraderie, lived experience, and fun–PreK through 12. Learning is joyful at MPA, and it has the ability to transform the way students learn and engage in their academic studies and social interactions. So we asked,
What are your favorite memories from the last 13, 14 years?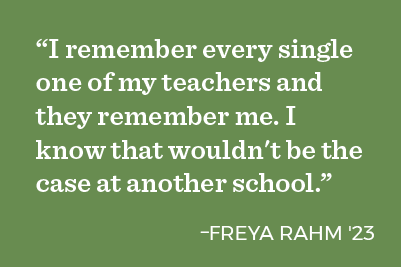 Jack: I remember in kindergarten Ms. Peterson painted our hands and feet to make reindeer. That one sticks out. I'll remember that for a long time.
Nicholas: I think doing the recycling in Ms. Nagle's class was a blast–just having that independence as a sixth grader.
Aidan: I remember the old cafeteria being pretty for the holidays with all the decorations. I remember vividly for Halloween, they had big pumpkins and orange streamers and just a lot of effort went into that.
William: Ooh, I'd say homecoming soccer games.
Henry G.: Learning cursive in Ms. Beggin's class with shaving cream on the desk and tracing.
Freya: Thinking about tennis, I still look up to Julia Portis '19, and Sofia Walker '19. Those are still my idols today from when I was a little seventh grader.
Jack: For me, with theater, it was seeing the Middle School show. In Lower School, they would bring us during the day to see the Middle School show, and I remember seeing Izzy Meyer Mueller '17 as the villain, and I thought, "That's so cool. I have to do theater." And now here we are, still doing theater. I probably would've found my way into theater at some point, but it's being exposed that young made that connection.
When you become a member of the MPA community, you are part of the fabric of our school. Interest at MPA is at an all-time high, and we are welcoming nearly 100 new Panthers to MPA in the fall. So we asked,
What piece of advice would you give to your younger self or to someone considering going to MPA?
Freya: Don't stress. At the end of the day, we're all going somewhere. It doesn't necessarily matter where you go to college. It doesn't matter what your GPA was in high school when you're applying for a job. Everyone's going to amount to something.
Siri: Get involved with as much as you can. For me, I have band and choir. And sticking with it, not just for your college apps.
Jack: It's nice to be exposed to the arts and languages young.
Henry S.: Families should consider how important Lower School is in the PreK-12 experience. Think about how much more you learn as a Lower Schooler and the jump from not being able to read and write to fifth grade, and you're doing algebra.
The Class of 2023 Lifers may be closing their chapters as Panthers, but will continue being dreamers out in the world. From the start, in kindergarten, they've been building their confidence and taking risks in preparation for what's next. The future is bright for this group, and it has been our community's joy to see them discover who they are meant to be.
Interested in where the Class of 2023 Lifers are headed next year?
Henry Galicich is attending Colgate University where he will be majoring in sociology and economics
Aidan Harms is attending the University of Minnesota-Twin Cities where he will be majoring in forest and natural resource management
Griffin Jones is attending the University of Minnesota-Twin Cities where he will be studying science and engineering
Nicholas Larson is attending Colgate University where he will be running cross country and track
Gabby Magistad is attending Drake University where she will be majoring in advertising and minoring in communications and Spanish
Jack Peterson is attending American University where he will be participating in musical theatre and dance
Freya Rahm is attending Oberlin College where she will be majoring in political science and playing on the tennis team
Henry Seum will be attending Jacksonville University  where he will be majoring in computer science and sailing on the sailing team
Siri Springer will be attending the University of Wisconsin-Eau Claire where she will be playing on the softball team
William Tan will be attending Carleton College where he will be majoring in biology
Anthony Troullier will be attending Michigan Technological University where he will be majoring in mechanical engineering and playing on the quizbowl team.