May 31, 2023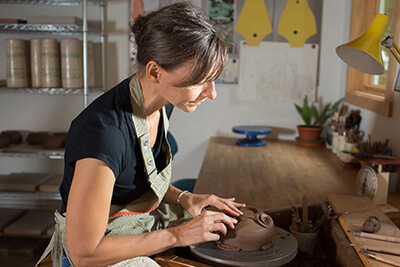 What position will you be holding at MPA?
Upper School Ceramics Teacher
From what school/organization are you coming?
I have been an artist and educator for over twenty years, teaching at colleges, universities, and community art centers. I also led an advanced ceramic certificate program that I co-founded with Northern Clay Center in 2014.
Tell us about your education and past experience.
I earned an MFA in ceramics from the New York State College of Ceramics at Alfred University and an MA in Art and Art Education from Columbia University Teachers College. I also spent a transformational year in Nova Scotia, studying with the renowned teacher Walter Ostrom. As a teaching artist, I divide my time between creating work for sales and commissions and teaching ceramics in a wide variety of settings. My artistic output is broad, and I make large-scale tile installations as well as wheel-thrown, functional pots for the kitchen.
What did you find appealing about MPA?
MPA is unique in its visible commitment to the arts. I am excited to be stepping into Ms. Buck's clogs and inheriting such a strong and vibrant ceramics program. I also look forward to working alongside teachers who are deeply invested in building a positive community and focused on creating challenging and meaningful experiences for students.
What lasting impact do you plan to have on MPA?
I want to help students strengthen their understanding of materials, experiment and take risks, gain confidence in the process of making, and see projects through to completion. I feel this is an essential part of a well-balanced education and is increasingly important in a digital world. This kind of creative problem-solving will serve students regardless of where they end up in their careers. I am also interested in building connections with other content areas. For example, ceramics naturally ties into chemistry, art history, material science, and literature, and I look forward to exploring some of these links in the classroom.
What's your big dream?
In every aspect of my life—whether teaching, making, or personal time—I want to bring value to the community, work in collaboration with others, learn something new, and enjoy the process.
What are you (and your family, if you so choose) passionate about?
My family and I like spending time in the outdoors, hiking, canoeing, and Nordic skiing. I also love gardening and am often watering and moving plants in my yard!
What's a fun fact about you that our community would love to know?
I have been a vegetarian for 36 years. My baked tofu was a hotly traded commodity at school lunchtime for both of my kids.