March 30, 2023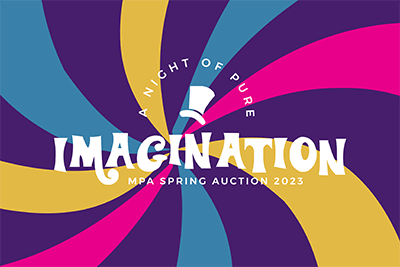 from Bill Hudson, Head of School
I am a huge fan of "Willy Wonka and the Chocolate Factory". I read the book as a child several times and watched the movie as often as possible. (The original movie with Gene Wilder, not the 2005 version with Johnny Depp. I'm kind of a snob about that.) Nothing made me happier than the beautiful rendition of Pure Imagination sung by the concert Choir at a past MPA Spring Concert. Imagine my delight when I heard that the Auction Committee chose "A Night of Pure Imagination" as this year's theme! But don't worry, I was told that I couldn't wear an orange top hat.
Movies aside, "A Night of Pure Imagination" is a wonderful theme for the Spring Auction for it speaks to what we can accomplish together when we unbridle our imagination. The song "Pure Imagination" is about the power of imagination and the endless possibilities that come with it. I truly believe that if we harness our collective imaginations, there is nothing we can't do.
The MPA Spring Auction isn't just a fundraising event, it is about celebrating our community and joining together to build relationships and honor every member. We are so excited to be back in person at a beautiful venue again this year, the InterContinental Saint Paul Riverfront, on the evening of Friday, April 21. "A Night of Pure Imagination" is a chance for new and seasoned parents, alumni, grandparents, parents of alumni, and employees to celebrate all we've accomplished.
A true community endeavor, the Spring Auction relies upon hundreds of community members and area businesses to succeed. I am exceptionally grateful for the work of our volunteer planning committee of Bethany Branan, Julie Bixby, Nikki Butts, Rebekah Cook, Sarah Cotter, Lucia Gray, Jessie Flynn, Tina Heidelberger, Natalie King, Tara Lafferty, Amy Minear, Molly Oliver, Renee Roach, Leslie Todero, and Deanna Walsh under the leadership of host Mindy Ruane.
There is still time to buy your tickets to the auction. You will want to do that by tomorrow because prices will increase on April 1. We want to ensure this community-building event is accessible to everyone. If ticket prices are a barrier for you to attend, reducing pricing is available based on your need.  There is also still time to contribute a few bottles of wine for the fun wine toss, donate a silent auction item, and sign up to be a sponsor.
Finally, you don't need to buy hundreds of candy bars to get your own Golden Ticket! Back by popular demand, MPA's Golden Ticket is your opportunity to win one of our amazing Live Auction items for only $150. Purchase one of 100 Golden Tickets which will be drawn during the Spring Auction program (not necessary to be present to win). Win one of the fabulous trips and experiences worth thousands of dollars! Tickets are now on sale!
I hope you will consider attending and contributing in some way. Like the movies and the song, MPA is about fueling the imagination of our students and encouraging them to dream big. Imagination and creativity are two important attributes of a mindset necessary to navigate our ever-changing world.   Please join me for a "Night of Pure Imagination."