January 31, 2019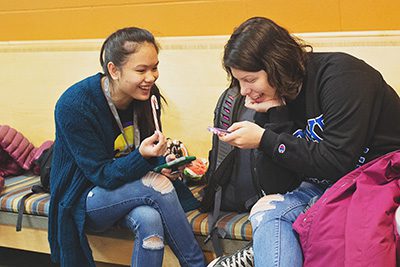 by Jenn Milam, Ph.D., Middle School Director, Mounds Park Academy
Just last week I had the privilege of sitting among fellow Middle School parents to hear a presentation prepared and expertly delivered by Ms. Mohn's Upper School women's literature students about the power and dangers of online vulnerability that exist in and through social media platforms like Facebook and Twitter, Instagram, TikTok, and any number of newly emerging applications. This parent education session serendipitously followed my attending a screening of the new film, "LIKE: A Documentary About the Impact of Social Media on our Lives," with my family just a few days before.
What is clear to me as I write this piece is that now, more than ever, we must have open, honest, informed, and critical conversations surrounding not only how we (yes, you and I) and our children are using social media; but more, how it is using us. While online interactions in these virtual worlds may seem somewhat disconnected from reality, make no mistake the influence of the social connections, comments, tweets, direct messages, chats, and images that are exchanged online spill over into the very fiber of our daily lives, and into our beings as humans.
It is present each day that the Middle School students walk through the halls at MPA, when they play basketball afterschool, and attend Quiz Bowl tournaments on the weekend. It's likely present in Lower School students' experiences as they attend birthday parties and playdates and parents post pictures with captions on Facebook. And, yes, in Upper Schoolers' interactions as they navigate college acceptances, celebrations, personal life moments, and social dynamics and move into adulthood.
Does this seem overwhelming? If you answered yes, you are not alone. The good news is, we can change our behavior and therefore, change the impact that social media has on our lives and those of our children. Read More