February 14, 2019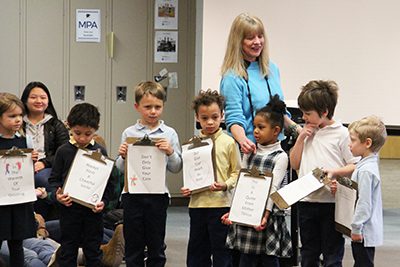 by Dr. Bill Hudson, Head of School
Adults and children alike are asking a question of themselves and others these days: What does it mean to be kind? During a time of societal change and upheaval, the place of kindness in our lives is often taken up by rancor, division, and sometimes violence. I was horrified last week by the incident on I-94 when a driver, overcome with road rage, fired a gun at a school bus driver. Schools are not immune and can be cruel places. It is a sad fact that more than one out of five students nationwide will be bullied this year. Research has demonstrated time and again that when students don't feel safe, it is difficult for them to learn and grow.
Kindness is not something to be taken for granted. It is important that parents and schools join together and intentionally foster empathy. Ravi Rao, a pediatric neurosurgeon, believes parents should teach feelings as much as they teacher things like color and numbers. She is convinced that for kids to show empathy to us, we need to show empathy to them. At MPA, we believe very strongly in fostering a kind and joyful community. What is at stake is more than academic achievement, it is a sense of self and developing the confidence to fly.
Kindness and joy abound at MPA, in small and large ways. My week started on a positive note when our kindergarten class led the Lower School in a Kindness Pledge. During our weekly Lower School Monday Meeting, a brave kindergartener stood with a microphone in front of over 100 of her peers and asked students to repeat after her and take the pledge. The kindergarteners are leading a school-wide movement to embrace kindness and demonstrate our love and appreciation for one another.
The Pledge of Kindness
I pledge to myself on this very day
To try to be kind in every way
To every person, big or small
I will help them if they fall
When I love myself and others too
That is the best that I can do
The Upper School holds a Monday Morning Meeting as well. I was pleasantly surprised to see the kindergarteners once again, this time encouraging kindness in front of 220 Upper School students. Similar to the earlier session in the Lower School, the kindergarteners took turns presenting their initiative to the Upper School students with poise and confidence. The look on the faces of the older students was priceless. Each one of the older students was focused, straining to hear the voices of the little ones, looking on with pride and admiration on their faces. Once again, one of the kindergarten students asked the older students to repeat after her, taking the kindness pledge. It was a magical moment.
If you happen to walk through the Middle School hallway, you will notice it is beautifully adorned with hearts and streamers. However, they are more than just decorations. The Middle School Social Change Club is drawing our attention to gun violence.
Students across grade levels are feeling the love. For example, Lower School students will be looking at artist Jim Dine's heart paintings. While listening to the Beatle's song, "All You Need is Love," students will be painting large Jim Dine Hearts. Students in sixth grade are studying the photography of Lee Jeffries, transforming his portraits into colorful paintings. Jeffries' photographs are of those experiencing homelessness, and students have talked a lot about shedding light on people who are too often ignored. Through imagination and connecting with the human experience, empathy is a natural and critical aspect of the artistic process.
Upper School students in their Makerspace class are making busy boards for an organization whose mission is to end homelessness. A representative from St. Stephen's spoke to our students about the issue of homelessness in our surrounding communities and beyond. Students designed and are starting to build a working prototype to test with our PreK students. The final products will then be delivered to St. Stephen's.
Kindness and love will be on full display today. Lower School parents have put together a Valentine Party for each grade level in the division. Later in the day, the entire school will gather in the Kreischer Gym for the official "groundbreaking" of Together, We Dream: The Campaign for MPA. This project is a labor of love as we provide for our children the space they need to fulfill their dreams. Please join in the festivities at 2:30 PM today.
There are some who say that schools are purely about academics and who don't see the value in character education or in a positive, nurturing school community. However, because we believe strongly in educating the whole child, MPA takes time to call attention to, and encourage, kindness. "Even in today's abrasive, angry, and often violent culture, there are acts of kindness all around us. We should point these out to our children," says psychiatrist and author Thomas Likona. "We should explain how kind words and kind deeds, however small—holding the door for someone, or saying 'thank you' to a person who does us a service—make a big impact on the quality of our shared lives."
Happy Valentine's Day to you. May kindness abound in your lives!