May 22, 2019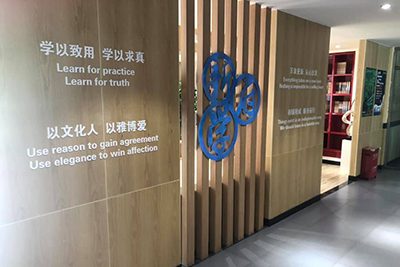 by Dr. Bill Hudson, Head of School
Planes, trains, and automobiles—and even a boat. I write this message while flying over the northern Pacific Ocean on my way back from a one-week trip to China. It was a fantastic experience and I thoroughly enjoyed the warmth and hospitality of the Chinese people and delighted in the wonderful culture and cuisine. Together with several other heads of school from the Midwest, I visited a number of schools in Nanjing, Beijing, and Guangzhou to learn more about the Chinese educational system.
The Chinese educational system is very different than ours in a number of ways. The National College Entrance Examination, Gaokao, is required for college entrance and the score dictates a future path for each student. There is tremendous pressure to earn a high score and get into a top college. Teaching is focused on preparing students for the exam, particularly in math and science, leaving much less time for other subjects or critical thinking. Curriculum is limited, and Chinese pedagogy is very teacher-centered. There is far less attention paid to student engagement and agency.
We talked to many different people who have lost faith in the current system in China to prepare students for what lies ahead. As the Chinese economy expands, many see the need to foster innovation and creativity to address the complex problems arising as a result. The entrepreneurial spirit that has grown the Chinese economy exponentially is now being applied to education. There is a growing number of educational leaders looking to the United States for inspiration for educational reform.
For instance, although math and science dominate the educational system, STEM or STEAM education is a relatively new concept. We visited one independent school in Nanjing that has developed a very robust STEAM program, but is having difficulty attracting students to the program because they fear it will take time away from preparing for the national exam. The leadership of the school is convinced that a maker-mindset, like the one cultivated at MPA, is critical for the future, yet the program has yet to experience success.
We spent some time at an international school in Beijing that has a relationship with an independent school in St. Louis. They expressed a strong desire to move away from a teacher-centered approach to learning to one that is more personalized and centered on the student. A project or problem-based approach to education is considered necessary, but their teachers do not have the training to implement such a methodology. They are hoping that their U.S. partner will assist them in realizing their idea of educational reform in their school.
In Guangzhou, we met with representatives from a very large corporation that designs, finances, develops, and constructs high-tech communities throughout China. Their next move is to create an educational division and establish branded schools in these communities and are looking for partners in the United States. Their vision is much like our MPA mission of whole-child education that attends to academic, social, and emotional learning.
I think there is a great opportunity to explore the possibility of forming a relationship with a school in China that would be mutually beneficial in a number of ways. For many years, we have welcomed students from all over the world and have intentionally built a globally-minded community. We are currently home to students born in sixteen different countries and countless families who have spent significant time living abroad. As a community, we value the opportunity to learn about other cultures and gain fresh perspectives through the stories and lives of our diverse community.
In recent years, MPA has established a formal international student program. Most students in the program are from China and Korea and efforts are underway to attract students from several other countries. On the way from Guangzhou to Hong Kong, I made a quick stop in Shenzhen to meet a prospective student. John learned about MPA from a friend on Instagram and that inspired him to find out more about MPA. He is attracted to our curriculum and the opportunities it provides as well as our college counseling program. John would like to study economics at NYU and thinks graduating from MPA would help him achieve his dream.
Mounds Park Academy wholeheartedly embraces diversity in all of its many expressions. My trip to China has only deepened my conviction that MPA has much to offer in our own community and globally.