May 11, 2020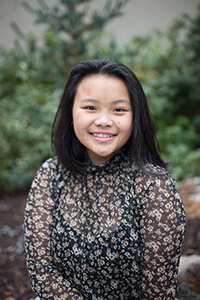 As the 2019–20 school year comes to an end, we're sharing the college choice stories of several members of the Class of 2020!
In what grade did you come to MPA?
I came to MPA in 9th grade.
How did you come to choose the college that you did?
I came to choose St. Catherine's due to an overnight I attended in the fall! I was looking for a college with a supportive academic environment just like MPA. Upon my overnight at St. Kate's, I experienced just that. The prospective students and the current students there were absolutely amazing. We clicked instantly. I was able to see how the current students interacted with each other and how much fun they had while still helping each other with their work. I also encountered dozens of amazing individuals who shared the same passion for learning and had wished for everyone around them to succeed!
What are you most excited about as you embark on your college experience?
I am most excited about branching out and meeting new people with different insights! I am not much of a talker, but I adore listening to people's stories. I believe that they reveal their beliefs and dreams. Being able to listen to new people passionately talk about what they hold dearly to them inspires me daily to work harder in order to aid them in their path to success.
What did you appreciate most about the college counseling process at MPA?
I appreciate Ms. Pederson's persistence and organization with the students. Ms. Pederson was always on top of everything, whether it be the college application process or contacting our schools. Ms. Pederson replied to every email I've ever sent, whether it had been in the early morning, or night. Her dedication and belief in our class pushed me through the rigorous process. She was able to pick me up whenever I felt frustrated or burned out.
What about your MPA experience has best prepared you for college?
I believe that MPA's supportive academic experience has helped me prepare the most for college. In middle school, prior to MPA, I always felt as if I was competing against my peers. I would not ask many questions due to the people around me who perceived me as a naturally "smart" kid. I worked vigorously into the night to sometimes self-teach myself material. Upon my arrival at MPA, I noticed that students got together and studied. They even shared notes and flash cards with each other! They were all so supportive of another and wished for others to succeed with them. This gave me the courage to speak up in class whenever something was puzzling, or to ask peers around me about explanations I did not understand. This experience has taught me to form connections with my teachers and to always clarify material.
What is your advice for MPA's Class of 2032 (kindergartners)?
My advice for the Class of 2032 is to find what you love most and what learning style fits you best. Everyone is different. You should not have to conform to a process that works for everyone else. Make your own path to success. Also, just because you're on your own path, doesn't necessarily mean you shouldn't rely on others. Your peers and advisors are there right next to you, just on their own little road. You are not alone and can always ask for support. We all wish to achieve greatness together.
The 53 members of the Class of 2020 plan to attend 41 different colleges and universities in 18 states, Washington D.C., Canada, and Australia. See their destinations here. Learn more about MPA's College Counseling Program here!