October 14, 2021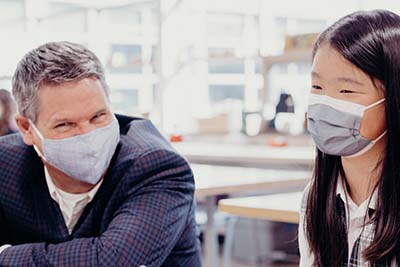 from Dr. Bill Hudson, Head of School
When families gather, it is not uncommon to tell stories, especially when celebrating important occasions and milestones. In my family, we not only celebrate our children's birthdays but also the day their adoption became official, their Family Day. No matter their age or their groans, both children enjoy hearing the story of when we first met them, what our time together in Guatemala was like, about the plane ride "home," and about the celebration with family and friends when we landed in Minnesota. Stories like these are told when milestones are celebrated serve as anchors for who we are, help shape our identity, and deepen our values.
Mounds Park Academy is in the midst of such a celebration that will span the entire school year. Together, we celebrate the fortieth anniversary of the founding of this remarkable school. I've had the honor and privilege of spending a good amount time with both our founders, Bob Kreischer and Sandy Kreischer Smith, and have been captivated by their dreams, hopes, and passion for education that led them to found MPA. By drawing together and inspiring their friends and fellow educators, Bob and Sandy articulated a very unique and compelling mission. From our original graduating class of seven students, now to our 574 current students, every child who enters our doors benefits from the vision and commitment of those early educators, which we still draw on today.
We have been thinking of this milestone as our very own community birthday celebration. Togetherness might look and feel differently right now than if we were celebrating the 40th anniversary two years ago or even two years from now. But we hope that we can all join together to say Happy Birthday to MPA. We hope you will join in the fun, beginning with some exciting activities to safely gather–virtually and in person–in November for the MPA Fall Campaign (more details will be released soon). To share in the storytelling with you, retired faculty and staff profiles will be released in the coming weeks and months. I hope this gives you a glimpse into the many wonderful people who have made our school what it is today.
Looking back over the past forty years, I am humbled by the number of parents who continue to be passionate about the school. Many current parents may not yet know that for most who become a part of the fabric of the MPA community, they often continue their connection, through the Parents of Alumni Association, Alumni Association, mentoring and volunteering opportunities, as host parents, as members of the Legacy Society, and guest speakers. The connections we make with one another today will remain strong, often well past your child's graduation.
Though obviously not the same thing, a fortieth wedding anniversary is called the ruby anniversary. Over time, the ruby has come to symbolize enhanced romance, devotion, and passion. The inner fire of a ruby is thought to represent the burning flame of passion in the hearts of a couple who have been together for 40 years. Likewise, the passion for the mission of MPA for our students to be dreamers and does and to make an impact on our world for the better burns brilliantly for so many.
The stories of our founders and founding board members, parents, and students are remarkably similar to what I hear from parents and students today. I recently received a note of encouragement from a colleague with the following quote: "Perseverance is the path that leads from uncertainty to celebration." That is particularly pertinent today for while it can feel like so many things are new or unexpected (especially given the realities of COVID-19), the mission, vision, and values of the founders at MPA hold true today.
At the beginning of the year orientation for new trustees and employees, founding faculty member Anne Devout Atchison told them that the history of MPA is unfolding and is now in their hands. She said, "History has become our story." Together, we are our stories, a beautiful mosaic of individual narratives that come together and create something wholly new and original. Join me throughout this school year to celebrate our story. The 40 Years Of MPA.