October 7, 2021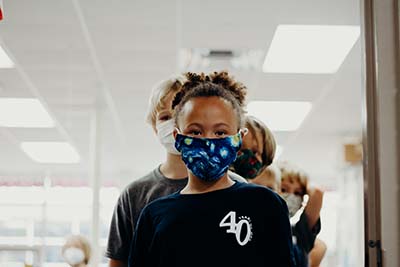 from Renee Wright, Lower School Division Director
Reading Assessment
Lower School teachers are using the Qualitative Reading Assessment Inventory (QRI) as a tool to assess student reading. Our homeroom teachers and our learning support teachers are conducting the assessments. The data collected from the QRI will be used by classroom teachers to group students for instruction, select appropriate books for literature circles, and provide diagnostic information for designing intervention instruction. Lower School teachers have found this tool to be extremely helpful and feel confident that data-driven reading placements and instruction serve students well. The QRI will be used to document student growth in reading over the Lower School years.
What exactly is the Qualitative Reading Assessment tool? The QRI-6 is an individually administered informal reading inventory designed to provide information about word identification, reading fluency, and reading comprehension. The data informs teachers of students' reading levels and identifies when text is at the independent, instructional, and frustration level.
Why Uniforms?
Lower School students look stunning in their Mounds Park Academy uniforms. MPA was founded 40 years ago and the uniform policy was implemented. Over the years the uniform policy has gone through some revisions, but we continue to feel students benefit from wearing uniforms. We believe uniforms contribute to a positive school climate and keep students in a "learning" mindset. We strive to consistently enforce our uniform policy. We invite parents to join in this effort. Just a reminder that leggings are not part of the uniform unless worn under a jumper or skirt. Also, socks need to be solid colors in navy, dark green, or white. Any dress shoe or athletic shoe is acceptable, but flip flops/shoes with open toes or backs, shoes with flashing lights, or boots are not part of the uniform. Jewelry should not be worn to ensure the safety of our students on the playground or in PE class. You can check out the full uniform policy in the Lower School section of the website. We thank you for supporting our uniform policy.
Learning Tip
Peter C. Brown writes in his book, "Make it Stick," that new learning requires a foundation of prior knowledge. Students need to learn basic math facts well to have success in higher level math classes. Learning foundational phonics rules is essential to becoming a good reader and speller. Learning foundational grammar rules is essential to becoming a strong writer. Encourage your child to work hard to learn and practice foundational skills, which lead to success in future grades.
Things to Look Forward to in Lower School
October 28: Virtual Family Engineering Night with the Works Museum
Join in celebrating "National Lights on Afterschool Day" with the Works Museum. This
virtual event will be a CARDBOARD CREATION CHALLENGE and can be done with materials you can easily find at home. Start now to gather boxes, scissors, tape, and writing tools. Information has been sent through Schoology and Panther Post this week.
October 29: Halloween Celebration
The day will be filled with grade level Halloween parties hosted by the Parents
Association. We are hoping to hold these parties outdoors, weather permitting.
The day will end with our annual Halloween Parade outdoors from 2:30-3 PM with Lower School students wearing their own Halloween costumes. More information about the parade is listed below.
Choosing a Halloween Costume
Choosing a Halloween costume is a Halloween tradition. Students at MPA are encouraged to wear a costume for the annual Halloween parade. Please make sure costumes are non-violent and do not include weapons. Masks are allowed in grades three and four only to ensure the safety of our younger students when walking in the parade. Make sure your student is able to walk safely in their costumes.
Halloween Parade!
Weather permitting, please join us for the return of the annual Lower School Parade! This year, the parade will be outside!
When: Friday, October 29 at 2:30 PM
Where: Parents can line up along the South Lawn to watch and cheer on their student(s) parade in their costume.
Please note that students will return to their classroom for regular dismissal and pick up procedure.
Parents are also asked to follow MPA procedure of wearing masks, regardless of vaccination status.
We look forward to seeing you there!
Dates to Remember
October 11: Picture Retake Day
October 20 – 22: Fall Break—No Classes
October 29: Halloween Festivities (2:30 PM Parade)