February 18, 2021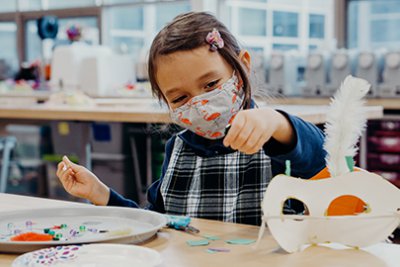 by Dr. Bill Hudson, Head of School
Not long ago, Google decided to do some self-reflection. Cofounders Sergey Brin and Larry Page set out to determine the eight most important qualities of Google's top employees. As a company that mostly hired top computer scientists, I imagine they were more than a bit surprised to find that of these eight qualities, expertise in STEM was not first nor second, but eighth! The top seven were: being a good coach; communicating and listening well; possessing insights into others (including others' different values and points of view); having empathy toward, and being supportive of one's colleagues; being a good critical thinker and problem solver; and being able to make connections across complex ideas.
What can we learn from Google about the future of creating smart, successful, in-demand graduates? The skills that students learn from the humanities and liberal arts are in high demand. In addition to the skills listed above, Google's follow up research identified having curiosity toward teammates' ideas, harboring emotional intelligence, valuing equality, being generous, and cultivating emotional safety as additional key skills for their employees.
Gone are the days when technology, though important, can alone be thought of as sufficient to solve the problems of the 21st century. In fact, after asking anthropologists and ethnographers to sift through their data, Google expanded its hiring to include artists, humanities majors, and MBAs, groups that Brin and Page previously preferred not to consider.
When I first saw the results of Google's self-studies, I couldn't help but notice the uncanny resemblance between Google's eight most important employee qualities and the Six C's of 21st Century Education that MPA holds dear. It's no wonder then, that so many MPA alumni have gone on to work for Google and other tech companies. These Six C's, critical thinking, communication, collaboration, creativity, culture and connectivity, are hallmarks of an MPA education.
The Six C's are alive and well at MPA, even with the challenges that the pandemic has brought throughout the last 11 months. In the short time since we've returned to school from winter break, I've seen a number of remarkable examples of our Six C's in action.
Critical Thinking
I'm always very proud when MPA competes with schools many times our size. That was the case earlier this month when MPA's Math League team placed in the top 15 in this year's competition, up against 160 of the largest schools in the state. Math League competitions force competitors to think through incredibly complex and rigorous math problems, allowing MPA students to show off their well-honed critical thinking skills.
Communication
I am often asked why MPA's Speech and Debate teams are particularly strong. In my estimation, it's a number of factors: great coaches, high participation rates, and a strong culture of success on the team. But it's also because we're a school that cultivates tremendous communicators. So this past weekend, when a number of MPA Speech team members competed in the Harvard Tournament, I was elated, but not surprised. MPA has been churning out champion speech and debate participants for many years, and I'm sure that our emphasis on communication as a 21st century skill is no doubt a factor.
Collaboration
As I write this, MPA seniors are right in the middle of their bridge project. In this project, they work in pairs to create a bridge from 15 sticks of basswood and a tube of glue. These bridges often hold hundreds, and even thousands of times their own weight. This whole week, I've seen groups of students spread out across the Upper School Commons making last minute tweaks to their designs and consulting with each other on everything from truss placement to bridge names. This year's bridge testing hasn't yet started, but these pictures from last year's event bring me great joy.
Creativity
I have been so impressed with the amazing creativity displayed by the actors and directors of the Middle School play and Upper School's Winter Show. Faced with the tough task of pulling off virtual shows, both productions brought ingenuity, resourcefulness, and significance beyond my wildest expectations. Don't forget to check out episode four of the Middle School play "Some Good News" tomorrow at 7 PM!
Culture
Whether it's Lower School students learning about Mardi Gras in the Makerspace, or Upper School Spanish classes connecting with Dr. Julio Ruben Torres, Director of the Spanish Language Program of the University of California Irvine about Latinx voters and the 2020 elections, culture is all around us at MPA.
Connectivity
Since the AnnMarie Thomas Makerspace debuted on campus in the 2017-18 school year, MPA's Maker Fest has brought students, faculty members, alumni and parents to campus for a celebration of making, design thinking, and creativity. In 2021, Maker Fest is going virtual, and I can't wait for this Saturday to see how our community comes to together to virtually celebrate our makers. In a year in which academic institutions have been plagued with a high level of disconnect, I am so proud to see MPA stay connected, and our virtual Maker Fest is another example of this in a year full of connectivity.
One part of my role as Head of School is ensuring that MPA graduates students with the tools to make an impact on their world. I think long and hard about how best to prepare them. More and more, I have come to find that equipping students with a balance of all types of skills lays the best groundwork for graduates to continue dreaming big and doing right beyond MPA's walls.