July 21, 2021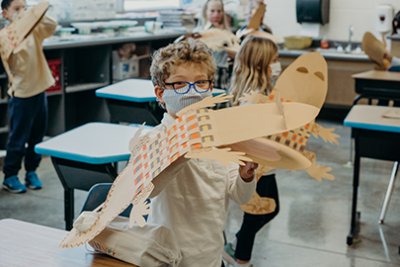 by Dr. Bill Hudson, Head of School
Even though it can be a little quiet and sometimes lonely working over the summer, it is a delight to witness how the grounds come alive. My office overlooks the rain garden and reclaimed prairie at the north end of the campus and the indigenous flowers that only bloom in the summer are stunning. From time to time, I also stroll through our gardens outside the Middle School and our new garden outside the Harrison Library. We are fortunate to have such a beautiful campus and a committed cadre of teachers, staff, students, and parents who lovingly care for it over the summer months.
Great care has also gone into preparing for the new school year. This email serves as your re-introduction to life during a pandemic on campus at MPA. We've spent a great deal of time this spring and summer researching the progression of the pandemic, consulting with educational and medical experts, and seeking guidance from our Community Advisory Group to design a plan that continues to be flexible, nimble, and always attuned to the latest science. Just like last summer and even throughout the school year, please know that the plan and all of our safety measures will change based on emerging information, both locally and nationally. We remain wholly committed to being safe, being smart, and being kind and ask all of our families to recommit to that intention. We cannot wait to have the entire community back on campus this August—including families!
On MPA's COVID-19 website you will find detailed information and I encourage you to review that page in-depth. There you will find information about the following topics and more:
a new COVID dial indicating where we will start the school year, with PreK-12 on campus and moderate safety measures in place;
information about MPA families' role including testing unvaccinated community members regularly, strongly considering vaccination, home health screenings, arrival and dismissal, attendance policy, and more;
information about MPA's role including physical distancing, masking, strongly recommending vaccinations, symptom response, and more;
information about the student experience including athletics, theatre, music education, campus events, and more;
and finally, you will learn more about the COVID-19 planning process, meet members of the Community Advisory Board, and read some FAQs.
If you have any questions or have any symptoms, test positive, or have been exposed to COVID-19, please email covid@moundsparkacademy.org immediately.
You are invited to a Town Hall Meeting on Thursday, August 12, 2021 at 7 PM. You'll hear more details about the above plans and have lots of opportunities to ask your questions. Come ready to celebrate the start of an incredible school year with me! Find the link below.
Whether in your own garden, at the beach, at the cabin, or wherever you find joy, I hope you've found time to slow down, regain perspective, and reconnect with friends and loved ones. Relish the remaining days of summer and know I very much look forward to seeing all of you on campus very soon.