November 10, 2022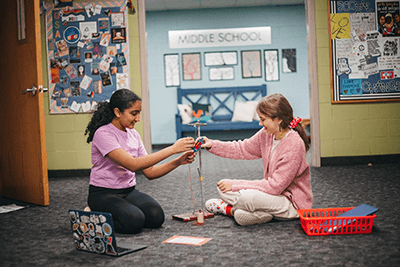 from Jenn Milam, Middle School director
I'm happy to report that we have made it safe, healthy, and happy to November on the heels of a beautiful fall and a successful end to our first quarter. As you'll receive from me on Friday with the release of grade reports, the end of a quarter is a time to reflect, to process, and to set goals for moving forward. The Middle School faculty and I ask for your partnership and continued diligence in supporting your student in timely arrival at school, continued diligence in completing schoolwork, and clarity and consistency in supporting our Middle School Community Expectations. Good habits are not always hard to develop, but sustaining engagement, focus, and efficient work habits can be challenging and your support is truly important and most welcomed as we move into the colder months when motivation and persistence can wane a bit. We can all use some encouragement in our daily lives!
Planned Absences and Attendance Policy
As we approach the holidays and time when families begin to plan for longer times away, I'd like to ask you to review our Planned Absence and Attendance Policy. Both can be found in our Community Handbook and I ask that you read and review with your student.
If you and your family plan to travel outside of the MPA scheduled holidays, please contact the Middle School office to notify us of your planned and extended absence. It is your student's responsibility to notify teachers of their time away, and request that materials (when possible) be prepared to accompany them while away so that they can keep up to date with schoolwork. If your planned absence impacts a major assessment or project due date, the student and you, should work with the teacher to develop a plan for when those items will be completed and/or scheduled for a make-up date.
If a student is absent from school, per our policy, they have that many days to make-up missed work. More, if a student is absent on a planned assessment day, they should be prepared to sit for that assessment upon their return, unless otherwise arranged with the teacher.
When questions or need for clarification arise, please reach out to your student's advisor and/or the individual teacher for support.
Tickets Are Going Fast!
November 18-20 will be our first full return to the Black Box, with the Middle School production, "Space Princess Wars" by Don Zolidis. It is a bit ridiculous, at times chaotic, but always a lot of fun! Ms. J and Ms. Mastel have been working with 61 Middle and Upper School students to bring this show to life. Star Wars + The Princess Bride = Space Princess Wars! Tickets are almost sold out! To purchase tickets, please visit: www.moundsparkacademy.org/spaceprincess.
SAVE THE DATE! Middle School Music Concert (Grades 6-8)
Our fall music concert is quickly approaching, and we hope you'll mark your calendars and save the date for Wednesday, December 14, 7 PM. You are welcome to bring extended family and friends, too! This concert is a showcase of our growth as ensembles for grades six through eight, and it will include all our singers, string players, and band musicians.
We work hard to affirm all students' identities while also nurturing an understanding of concert expectations, including those for dress. Your student has the following options to choose from as they prepare to perform in December.
Option #1
• long-sleeved, white dress shirt or blouse
• colorful tie
• black dress pants
• black belt
• black socks/ tights (no exposed skin)
• black dress shoes
Option #2
• Long-sleeved black shirt or blouse
• black dress pants or black skirt (knee length sitting)
• black dress shoes (flats or low heels, no more than 1 inch)
• black socks/tights (no exposed skin)
We also hope you'll enjoy the most recent newsletter from our MPA Music Department available here!
NOTE: Attendance and participation at all performances is a required and expected part of participation at MPA in our music programs. A performance is viewed like a summative assessment or final project presentation and students missing this important event not only impacts them, but the entire ensemble. Each of our music teachers has shared these expectations at the start of the year in their course syllabi. All students are expected to be present and participate in the entire program.
Thanksgiving Break
MPA observes the Thanksgiving Holiday from Wednesday, November 23, through Friday, November 25. There are no classes on these days. Additionally, there is no Study Hall on Tuesday, November 22, so that our teachers and staff can begin the holiday with their families and loved ones.
If your student cannot be picked up by 3:10 PM, they will be asked to sign-in for Panther Den and a fee for attendance will be added to your TADS account.
Fall Campaign: Forward Together
This year's "Forward Together" campaign kicked-off on Monday, November 7, and lasts through November 18. During this time, we ask our community to help us meet the gap between tuition and the cost of an MPA education to help ensure students, families, faculty, and staff have the resources they need.
Here are ways you can help:
Spread the word! Help us to ensure other parents and community members know about this important time, where we step up and give back to support our entire community.
Mark your calendars! Give to the Max Day is on November 17! This fun day is when Panthers everywhere join together to help us reach a big goal and enjoy a fun lip sync battle with teachers, staff, and students. You are invited to join us for a return to our in-person Lip Sync Battle! Join us in the Lansing Sports Center on November 17, at 2:20 PM to cheer on faculty and staff as they battle it out.
Give! You can contact Jennifer Rogers, director of development and community engagement at jrogers@moundsparkacademy.org to learn more about how to make a pledge or a gift. You can also visit moundsparkacademy.org/donate to make your gift today. For each grade that reaches 70% participation in making a gift, students will receive a fun party!
Important Dates and Upcoming Events
November 17: Give to the Max Day—Assembly Schedule
November 18: Bring A Friend to MPA Day
November 18-20: Middle School Show—Get your tickets now
November 21: Future Cities MPA Competition, Grade 8
November 22: No Study Hall
November 23-25: Thanksgiving Break, No Classes
November 28: MPA Return to Classes
December 5-9: MPA Book Festival
December 7: Founder's Day Pancake Breakfast
December 14: Middle School Music Concert (Grades 6-8)—Choir, Band, and Orchestra, 7 PM
December 18: Grades 5 + 6, Volunteer at Feed My Starving Children and Roller Skating, No Study Hall
December 19-January 2: Winter Break, No Classes
January 3: MPA Classes Resume