September 22, 2022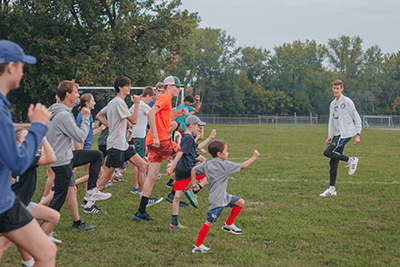 Faculty and Staff Appreciation
Thursday, September 29-Thursday, October 6
As the school year at MPA kicks into high gear and we prepare for Fall Parent/Teacher Conferences, the Parents Association is continuing the annual tradition of Fall Faculty and Staff Appreciation Week! With more Faculty and Staff than ever before, the MPA PA invites you to check out this link and consider signing up for a snack or beverage donation. You can also sign up to spend time in the teaching kitchen, serving our staff during this fun week. There are even evening volunteer options for you or, if you are the parent of an Upper School student looking for service hours, students can volunteer at the evening Staff Dinners by showing up or emailing Tara Lafferty at tmattrn@aol.com. Donated items can be placed at PA Carts located just inside the Lower School and Upper School entrances.
Please adhere to MPA's Food Allergy policy. MPA Food Allergy Information and Snack Safely Website Snack Safely Guide. Questions? Please contact Tara Matthews Lafferty at TMattRN@aol.com
Sports Swap, Last Chance!
3-5:30 PM through Friday, September 23
The Sports Swap is here! The PA is selling gently used equipment this week after school in the Atrium. Priced to sell, the funds will be used to purchase playground equipment for LS and MS students and/or the US athletics department. Unsold items will be donated to charity. Questions? Reach out to Christine Larson at clarsonPA@moundsparkacademy.org.
We could still use a few volunteers. To volunteer, please click here.
Quarterly US Parent Coffee is Back!
Friday, September 30, 8-9:30 AM
US parents please join Mark Segal and the MPA PA on September 30 in PCR from 8-9:30 AM. There will be timely topics, discussion and connection for US parents.
Fall Parent Brunch
October 12, 10 AM-12 PM
Parents, please join us for a morning meet-up at Churchill Street in Shoreview. Now that school is back in session, parents deserve a mid-morning break. Head over to this great community gathering spot to meet, connect, and chat with other MPA parents. The PA is covering the cost of the private dining room for the morning, and parents can order what they like and pay for it at the counter. Churchill Street is at 4606 Churchill Street, in Shoreview, MN! Preschool-aged siblings are welcome.
RSVP by October 5 to Staci Banks at sbanksPA@moundsparkacademy.org.
Wednesday Morning Walks
Wednesdays at 8 AM
The Parents Association invites parents and guardians to get together Wednesday mornings after drop off with Michelle Mick. We'll meet at the flagpole near the LS entrance. LS, MS and US families are welcome. Chat with new parents and connect with friends. Younger children are welcome to walk with us. Questions? Contact Michelle Mick at mwesselyPA@moundsparkacademy.org.
Gardening at MPA: Harvest Day
Saturday, October 1, 9-11 AM
Join us for a gardening day from 9-11 AM. We'll be harvesting what we've grown in the garden along with continuing upkeep. All families are welcome. Questions? Contact Michelle Mick at mwesselyPA@moundsparkacademy.org.
Gardening at MPA
Thursdays at 8 AM
Calling all those who want to spend some time outside at MPA in the gardens! You're invited to spend time tidying up, building, sowing, and spuddling around in the dirt surrounded by beautiful flowers and greenery. Come for a few minutes or stay for an hour or two.
All are most welcome including friends and family. We'll meet outside under the flagpole at the LS entrance, with gardening tools in hand! No gardening experience necessary. Questions? Contact Michelle Mick at mwesselyPA@moundsparkacademy.org.
Community Grants Initiative, an Exciting Opportunity for Students and Faculty
(Formerly known as Microfunding)
The Parents Association Community Grants Initiative provides grant-based funding for projects and programs, existing or new. The funds are available for use by student clubs and organizations, as well as for teacher-led initiatives that support the mission of the MPA PA. To access these grants, interested groups must fill out an application. Priority will be given to applications received from September 1-October 31. Applications received outside of that window will be reviewed and approved on a rolling basis. Interested in learning more? Review our application and procedures here. Questions? Email Natalie King at nkingPA@moundsparkacademy.org.