February 22, 2023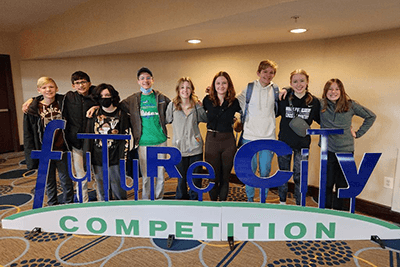 This year's Future Cities project has produced some incredibly impressive work. After winning accolades at the state level, MPA's VAXA team—Josh M., Carter S., Julia A., Finley H., and Grace K.—had the honor of competing at the national level in Washington, D.C. this week. Two other MPA teams flourished at the regional level as well, earning MPA three special awards: Engineering Excellence, Outstanding Essay, and Best Infrastructure System. Read more about MPA's success at the state competition here.
Team VAXA arrived safely in Washington, D.C. last Saturday. Though their Future City model arrived in less-than-ideal condition, it was rebuilt with Mr. Braafladt and Mr. Milam's guidance and assistance to all its former glory. Judging for the Main Event and Special Awards took place, and VAXA presented three times, back-to-back, to three different panels of judges. This process was a diligent and arduous experience that tested the students' skills, preparation, and knowledge. Though we were not recognized formally this year, Dr. Milam expressed that "being chosen to represent the state of Minnesota at Nationals in Washington D.C. is this year's award for hard work, creativity, and innovation." This level of accomplishment for the Future Cities project is a first for MPA, "but I feel certain it won't be the last time we make our mark in the Capitol city," she says. Beyond the competition and Future Cities Discovery-E activities, Ms. Murr was able to coordinate with some MPA alumni in the D.C. area and they joined Team VAXA for public viewing of the models at the competition venue. They then ventured out that evening for dinner together. Having MPA students together, current and former, was true MPA magic! Team VAXA also took time to visit the African American History Museum, Aerospace Museum, and walk around the National Mall while in D.C. We're so appreciative of our alumni coming to support and connect with our current students!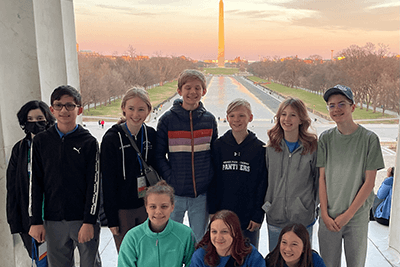 A very special thank you goes to all who supported the students' work, and very heartfelt gratitude to Mr. Milam, Mr. Braafladt, and Ms. Murr for traveling to D.C. with this incredible group of young engineers. Additional kudos to the awesome eighth grade team, Ms. Atchison, Ms. MacPhail, and Ms. Phillips, who all played important roles in Team VAXA's success.
Mr. Milam recounted his experience and said, "To end this six-month Future Cities journey surrounded by MPA alumni, parents, board members, teachers, and students was among the most incredible experiences of my professional career. All my eighth graders dreamed big and did right!"
Finally, a huge shout-out to this incredible eighth-grade class, Class of 2027! They worked hard, supported each other, rallied together to polish Team VAXA's model and presentation before D.C., and truly demonstrated the MPA spirit of collaboration, teamwork, and joyful learning. View the full album of photos from the trip here.