June 29, 2023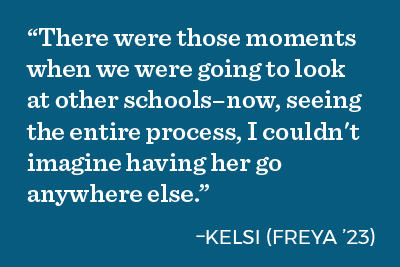 Picture yourself in the position of a parent of a PreK or kindergartener, perhaps anxiously, but jovially, beginning your school search. If you are looking at a school like Mounds Park Academy, you want your child to grow into a free spirit, a risk taker, a right maker, a dreamer, and a doer. You want an independent thinker. You want your child to be known. You want your child to love school. Your role, as the parent in the school search process, will determine the foundational years of your child's education. It seems that for parents of the Class of 2023 Lifers, the memory remains clear as day.
Parents of MPA Lifers, the students whose entire K-12 or PreK-12 journey has taken place here at MPA, made a choice for their students and continued to choose MPA every year for all 13 years of their education. Right before they graduated from MPA, we interviewed the Class of 2023 Lifers in a group reflection on their MPA journeys. Their responses and recollections, punctuated with gratitude, nostalgia, and undeniably helpful feedback, led us to further expand on the conversation. We decided we needed to hear from the Lifer parents, as well.
An MPA education emphasizes the value of purposeful academic rigor in a hands-on, experiential, college-prep environment with the goal of instilling a lifelong love for learning. So we asked:
How has MPA accomplished this for your children, helping them find personal and academic success?
Christine (Anthony '23): Anthony's a quiet kid, more on the introverted side. And I think one of the things, from preparing personally, is being somewhere this many years and really knowing people and having those longitudinal relationships with teachers, classmates, and other staff at school. It has really been beneficial for him as far as building confidence and being comfortable–coming out of his shell a little bit. The first time he came here, he was 10 days old, so by the time he came as a student, he was super comfortable and felt like it was somewhere that he was familiar with. I definitely think that's made a difference for him.
John (Freya '23): When it comes to Freya, one thing that I think has been beneficial for her academic success is the small size of the school and the exceptional students that she's with. And some of those kids being so exceptional and doing such exceptional work has forced her to become a better student.
Natalie (Henry S. '23): I couldn't agree more. One thing I've been really pleased about and so proud of is the diversity that Henry's experienced here. It's something he was looking for in his college search, which I was just so profoundly impacted by. He'd say, "mom, that's just not what I'm used to, and I'm looking for a school with more diversity." That is MPA. I love that.
Karlyn (Jack '23): It is a gift to have such a diverse community here. It's been fantastic to have our kids here with so many different cultures represented.
Gavin (Jack '23): Our son told us, "I can tell that I'm well-prepared." His study habits, his understanding of college-level courses, the depth that you need to be able to get into, the writing, all of those things. He felt very, very prepared.
Stefanie (Henry G. '23): My son has some of the same friends he's had since kindergarten, and I think it just allowed him to blossom. It took him a little while, but he found a comfortable place where he could figure out who he was, what he was interested in, and how he could pursue that. He found his own path.
Kelsi (Freya '23): Every time Freya is talking to an adult, she is so clear and impressive. When she had her first college interview with a tennis coach, five minutes before the call, I'm like, "Are you ready?" She said, "Yeah, I'm totally ready. I've got it." As soon as she got on the call, she was super professional. She didn't even need us. Whenever she needs to talk to somebody about something important, she blows us away.
Gavin (Jack '23): That was our first impression when we were doing our first tour of the school. I remember watching Lower School students talking to adults, in sentences, maintaining eye contact. I mean, that was impressive.
Educational choices stick with a child for their entire life, and parents are searching to balance what's best for them in the moment and what's best for them long term. So we asked:
Why did your family choose to stay at MPA through 12th grade?
Christine (Anthony '23): For us, it was just a good fit for him. Going into seventh grade, I sat down with Anthony and had a conversation. "Is this school meeting your needs? Are you getting what you need here? Are there things you wish for?" Because that would have been a natural time to make a change. For him, it never crossed his mind that he would want to go somewhere else. I can't imagine another school meeting his needs as well as MPA did.
Gavin (Jack '23): It's a decision we made repeatedly. Most recently was going into high school. We're in another school's district, and we took a look, and the answer was no. I'm a huge supporter of public schools, so it was hard to acknowledge. But, there were several hundred students in every grade. Surely they must have lots of options and electives and all these things you can study? No, they did not.
Karlyn (Jack '23): Also, one of the main reasons that we picked MPA is because of the arts–which every school keeps cutting. I really appreciate the flexibility from the faculty and administration when our kid was performing at the Children's Theatre Company. He was so busy and had to miss so much school for that–but that is absolutely what he is passionate about. It just meant the world to him to be part of that production. The arts are so important to us, and obviously to our kid.
Christine (Anthony '23): These art teachers turn every single kid into an artist. I don't know how they do it. They're magic as far as I'm concerned. But I love that he was able to have all of his needs met, to study science and math, and be on the robotics team, and yet, find some very artistic things that he loves. I really love that about this school.
Natalie (Henry S. '23): There have been a couple of times along the way, most notably seventh through ninth grade, when Henry wanted to leave. He had friends at Mahtomedi, we moved into the Mahtomedi district, the bus could pick him right up, it was super convenient. The sailing team was more competitive. But I said, "no, this is the place where you belong and someday you'll thank me for it." He doesn't know what a public school is like, and I was absolutely convinced that if he got into a public school, he would be disappointed in everything. He actually said earlier this week that he sees now what I told him to see back then.
Kelsi (Freya '23): We talked about it every year. It's really interesting now, after going through all 13 years, that I get it. There were those moments when we were going to look at other schools. Now, seeing the entire process, I couldn't imagine having her go anywhere else.
John (Freya '23): She always felt this was her home, so to speak. That's really the primary reason she never wanted to go. Even though we looked, even when she maybe wasn't in love with everything that was going on during those middle school years, she always wanted to stay.
Karlyn (Jack '23): I think the teachers played a very important part because they formed such incredible relationships with the students. That was definitely a reason to stay.
MPA families look at their investment as the foundation for success in college and life, including building upon students' skills and interests. So we asked:
What was the return on investment for your children?
Christine (Anthony '23): I'm saying this with the benefit of having another MPA graduate who's out of college and recognizing how well-prepared she was. The amount of merit aid that she received at a small liberal arts college was all her. I think there's some return on investment just from that standpoint. I definitely think it's been worth it for us.
Stefanie (Henry G. '23): I agree with that. And I think one thing that MPA offers that other schools don't is the ability to be involved in so many things. They come through the college process as these really well-rounded kids who have a lot more than a GPA or an SAT score. And I think that's key.
John (Freya '23): I'd like to give a shout to college counseling. Certainly, that's something that most kids don't have access to. But just as a parent, the support of dealing with all that, having encouragement, and making the kids stay on top of everything–college counseling was one of those things that really felt worth it to me.
Karlyn (Jack '23): I would say that education is absolutely the number one priority for us. We don't have a boat, we don't have a cabin. It is absolutely top tier of importance to us–the best education. And when we were looking, what did you say?
Gavin (Jack '23): I said, "I have only one objection and that can't be the objection," and that was the cost. We felt it every year, but it was still within our means. We could do it. If that was the only objection, and it was, then I didn't have an objection. At MPA, you have families who are by definition invested in their children's education.
Thirteen years is a long time. Throughout the 2023 Lifers' time at MPA, there have been many surprises along the way, from integral changes to the physical campus to the COVID-19 pandemic.
But we want to know, what about your MPA experience have you been the most surprised by?
Kelsi (Freya '23): The fact that we've had phone conversations and Zoom meetings with Dr. Hudson and Mr. Segal. All the teachers have always been available. And I shouldn't be surprised by that, but I don't remember anybody doing that elsewhere.
Stefanie (Henry G. '23): I was surprised by how respectful the culture is here, of substitute teachers and just the facility in general. I remember being left alone in the classroom with the kids briefly while the teacher was doing something, and I thought, "Oh my gosh, this could be total chaos. What are they going to do to me?" But they all just kept doing what she had told them to do!
Gavin (Jack '23): Jack has said he thinks that teaching here has got to be a dream job for exactly that reason. There's just that culture that says, "We are here to learn. We're part of a community." I shouldn't be surprised, but I guess if there's a surprise, it is a very distinct community.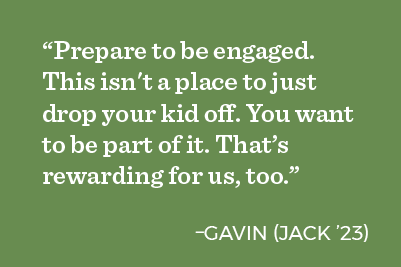 Christine (Anthony '23): I felt this way watching senior performances. I've been in awe every time these young, soon-to-be adults stand up there in front of their classmates, parents, and people they may or may not know. The Nicholson Center is filled with people, and they are up sharing really intimate, vulnerable things about themselves. The fact that they feel safe doing that, that they can come to school and be themselves is so phenomenal. I'm not surprised by that because I've been here a long time and I know that that's the culture, but I just think that is a really phenomenal thing. The teachers and everybody else here are why these kids can stand up and do this. Teenagers need that ability to be themselves and have the support of the school and their classmates. I just think that's truly amazing.
John (Freya '23): I second that. Maybe I'm not surprised by it because that was what our hope was when we came here. I remember at one of the first orientations, there was an Upper School student who was speaking to prospective parents. He said one of the things he really loved is that he could look at all of his classmates and he knew them. He knew what student A was good at and what student B was good at. He knew all their skills and strengths and who they were and really appreciated that of his peers. I think, to your point, the kids that can stand up there and then do it as confidently as they do in front of all their peers really speaks to that relationship that they feel they have. Even if they're not best friends, they still respect each other. I'm maybe surprised that the school lived up to that.
Norm (Anthony '23): In a lot of schools, you have a lot of peer pressure. At MPA, there is peer pressure here, but it's good peer pressure. Kids realize that if they mess up, they can ask for help. If somebody gets out of line, well, that's not really the appropriate behavior.
Karlyn (Jack '23): The kids support each other. They cheer each other on. It's just the culture. The culture and the community are probably two of my favorite things about this place.
Stefanie (Henry G. '23): I love looking at the Instagram of where kids are going to college. I always read the comment section. It's like they all have 60 cheerleaders.
Making a school choice comes down to how your family feels when you're here. We asked:
If you could go back and do it all over again, would you?
Natalie (Henry S. '23): I would love to go back and do it all over again.
Gavin (Jack '23): We'd do it sooner. The only question I have in my mind is, would we have started the older one here? Would he have been part of the 13-year club? He had a rough couple of first years. His kindergarten and first year were not super fun for him.
John (Freya '23): I think we would. We have a seventh grader now who started here in PreK.
When choosing a school, you're not looking for a community just for your children, but for yourself and your entire family. We asked these Lifer parents, heavily involved in this community for 13+ years,
What advice do you have for another family considering MPA?
Kelsi (Freya '23): Attend the yearbook ceremony. Somebody told me that, and I'm so glad I have every year. I'm always crying.
Stefanie (Henry G. '23): My husband rarely takes a day off from work, but he takes that day off.
John (Freya '23): My advice would be to engage with the faculty and the administration because they're responsive. Ask for what you need and advocate for your kids if things aren't going the way you want them to.
Gavin (Jack '23): Prepare to be engaged. This isn't a place to just drop your kid off. You want to be part of it. There are a lot of ways to be part of your kid's education and part of the community. That's rewarding for us, too.
Stefanie (Henry G. '23): One benefit I think of being here in Lower School is that they really set the tone of how you behave in a classroom. Having two boys who weren't always doing that, I think the expectation was set really early on. This is what we do, this is what we don't do.
Christine (Anthony '23): Every day my kids have come here, there's just this sense of knowing that they're walking into a place where people know them and care about them. Anthony was here during COVID, and I feel like this school did such a phenomenal job responding to that. I tell people I'm really fortunate. Silver platter, bow-on-top COVID response. That's the way I describe it to people. Anthony was connected to his school, connected to his classmates, connected to his teachers. I know that could not have happened without how dedicated the staff of all disciplines are at this school.