March 29, 2022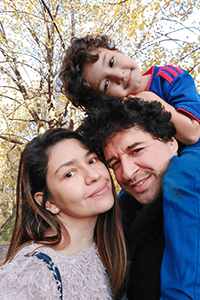 Meet the Soto Álvarez family! Current parents Diana and Michael are joined by their MPA kindergartener, Lucas, to share their MPA story.
What do you love about MPA?
Lucas: I have a lot of friends. And on the school's birthday, we got cupcakes! I like my French class. I also like my classroom because that's where my friends are.
Diana & Michael: Everyone is so welcoming. And it is clear that the programs and offerings are incredibly well thought out.
What initially attracted you to MPA? Do your same needs/desires hold true today?
Lucas: My mommy and daddy picked it, but it was a good decision.
Diana & Michael: We wanted a school that was excellent academically, but that also took a holistic approach to the student. We value that MPA cultivates active community members and social change agents. We like how design thinking has been interwoven throughout the school. And we were blown away by the quality of the ceramics projects on display! Over the past several months we have seen Lucas growing and learning in a range of ways, including how to use his "emotional toolbox" to handle difficult situations. Read More