January 17, 2020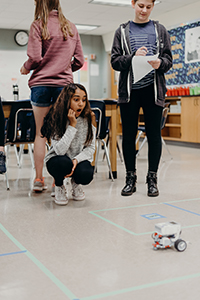 There aren't a lot of sure things in life. Financial markets are volatile; fashion is fickle, and this year's winning team can snooze next season. In an unpredictable world, one of the best bets you can make is investing in a rigorous and empowering college prep education that will pay life-long dividends for your child.
Research from the National Association of Independent Schools (NAIS) demonstrates that independent schools—including private institutions like Mounds Park Academy—prepare students for academic success, with graduating seniors at NAIS schools achieving substantially higher SAT results. Additionally, independent schools strengthen 21st century skills, with graduates spending more time asking questions in class, evaluating the quality or reliability of information, and looking for alternative solutions to a problem.
Independent schools also nurture in students the desire for a future that combines economic success with social responsibility and personal fulfillment. The data shows that graduates from NAIS schools were more likely than public school graduates to feel it is important or essential to be community leaders or become successful in their own businesses.
Excellence And MPA
Mounds Park Academy is one of the top two private schools in the seven-county Twin Cities metro area and one of the nation's top STEM schools. We have a proven track record for excellence that seamlessly merges academics, arts and athletics in a welcoming environment that provides personalized attention. MPA cultivates each child's strengths and fosters a love of learning, equipping students to make their mark individually and improve our global community. Mounds Park Academy families hail from 64 different zip codes throughout the greater Twin Cities and western Wisconsin, and reflect a diverse range of backgrounds and experiences.
Our school is also a place where children can explore subjects in and outside of the classroom, and actively engage in the world around them. Our students include state champion athletes, Fortune 500 interns, and environmental activists. Our alumni represent entrepreneurs, magazine editors, and mentors. Our 32 acre campus features a new state-of-the-art library, cafeteria, kitchen, teaching kitchen, makerspace, and commons that create a fresh framework for learning and doing.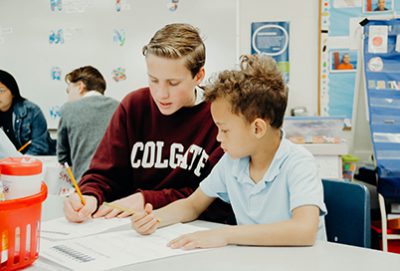 Becoming Their Best Selves
At elite private schools like MPA, students take part in intellectually stimulating academic courses that instill curiosity and independent thinking, while challenging them to become their best selves and excel at their studies. For example, the vast majority (79 percent) of students in the Class of 2019 earned an overall 3.0 grade average or higher, and nearly half of our newest alumni achieved a GPA of 3.5 or better. The 56 members of the Class of 2019 received 108 offers of admission from four-year colleges and universities in 31 states from the East to the West Coast. They chose to attend 43 different schools in 18 states and Washington, D.C. More than 100 institutions travel to MPA to recruit our students each year.
Throughout their MPA education, students can pursue a well-rounded range of interests from art and music, to athletics and engineering, to public policy and social justice. Our full slate of extracurricular activities complement the academic experience and enrich students' lives while developing perseverance, character, teamwork and leadership—all skills that will help them succeed in school and beyond. With an average class size of 14 and a student to teacher ratio of 7:1, small class sizes mean that teachers are able to know their students, better evaluate their academic and personal strengths and challenges, and then engage them in ways that ensure they thrive.
MPA is a strong advocate for the open dialogue, respectful discourse, and critical thinking that help prepare young minds for college, careers, and life. Our small classes and connected community create the best learning environment, where teachers know and understand each child, and where people treat each other with kindness and respect. We value progress over perfection—learning to navigate bumps in the road, to start and then re-map a journey, is essential to emotional and intellectual resilience. Instead of needing to always "get it right" students are encouraged to do right, with integrity and compassion.
"I'm truly honored to serve as Head of School," says Dr. Bill Hudson. "MPA is a remarkable place. While we may share many characteristics of other independent schools, we have a unique mission that lives deep within each teacher and staff member and manifests itself in the lives our students and successful alumni. They truly do dream big and do right, and that makes me so very proud."
Learn more about it: Private Education at MPA