Inspiring Teaching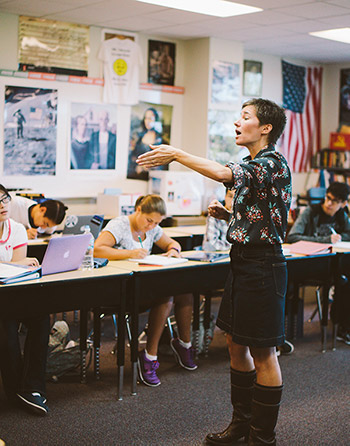 with
Katie Murr
To cultivate right makers, you need teachers who are able to connect deep content knowledge to the real world in ways that implore students to use it for good. Katie Murr is one of many exceptional teachers at MPA who have the ability to do just that every single day.
Katie was raised by two public school teachers, including her mother, who holds a Ph.D. in microbiology, and she was immersed in their careers. "They firmly believed in the power of knowledge as the path toward a more meaningful and impactful life," Katie explained. Never intending to teach, Katie's early aspirations led her toward law or politics at Wellesley College in Massachusetts. She interned for Paul Wellstone and worked primarily on education policy. "I came to realize that politics is not the place to change education. The classroom is."
Looking back, Katie now realizes that she was destined to be a teacher. "I always really liked teachers, probably because I wanted to be one whether I knew it or not," Katie reflected. She attended Eagan High School where two teachers truly inspired Katie—they were known to her at the time as Mr. Vergin and Ms. Kunze, both of whom are now her colleagues at MPA. Early in their careers, they taught Katie social studies and world language, and coached her in debate and speech. "Mike taught me everything I know about patience and evaluating information critically. And Kari is one of the finest educators I've ever known. You learn just by being in her presence."
Katie's first year as a teacher was spent at Eagan High School before coming to MPA in 2003. "I knew that I could focus on being a better teacher here, not a better classroom manager," Katie recalled. She was familiar with MPA through several people, including a classmate at Wellesley, Katie Ditmore, valedictorian of the MPA Class of 1997. "Katie would randomly recite Chaucer and talk about Maureen Conway (retired MPA social studies teacher) so fondly. I knew this was the place for me."
Students in Katie's classroom are engaged and always eager for more. "I work really hard to connect what we're learning to current events so that they see how history shapes modern policies and ideas. For example, checks and balances on its own is not very inspiring; however, using that knowledge to understand how a current political situation unfolded makes a student's life richer. They gain an awareness of the complexity of the deep issues at work and an understanding of how to influence those issues."
I provide opportunity after opportunity for students to find their personal connection to history. That understanding will help them realize how impactful they can be.
Katie Murr
"We are shaping children to become leaders in whatever field they choose," she said. Firmly believing that this will be the century of social justice, Katie aims to provide students with the skills and perspectives necessary to be positive contributors. "They are being empowered here and leave ready to be leaders who make good use of their knowledge."
One of the reasons Katie is so aspirational is because she allows her teaching to get personal. A self-proclaimed nerd, she feels comfortable being who she is because MPA students are accepting of her and of each other. She wears her heart on her sleeve, shares her passion for history, stands up for what she believes in, and pushes herself to be better every day. "I have to do a really good job because that is what we MPA teachers expect of each other," Katie said. "I am reminded again and again of how amazing all of the teachers here are."
MPA is a family affair for Katie and her husband Dan, an engineer. Their sons, Ben and Josh, are in grades five and two respectively. "I feel so grateful to be able to put my children in this environment of passion and commitment. This is a place where teachers can work their magic and encourage my children to reach their full potential." The entire Murr family's identity is deeply rooted in MPA, and she says there's rarely a day when the three of them would rather not be on campus.
When asked how MPA prepares students for a future that is difficult to understand, Katie shared her perspective, "MPA already delivers what we all know children need—knowledge and critical thinking skills that inspire students to serve the world instead of serving themselves. The core of what we do is timeless and increasingly critical to our society."
---