The Future Of MPA Athletics
with
Dan Haase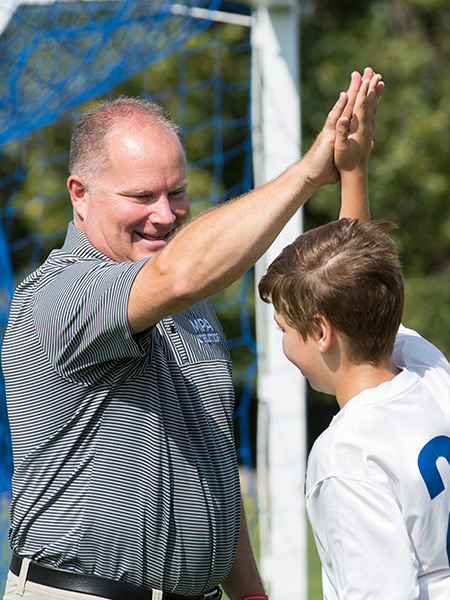 The face of athletics at MPA changed this summer when the beloved Joe Kordosky retired as athletic director, a position he'd held since 1989. We now welcome Dan Haase, who offers both a commitment to the founding principles of MPA as well as a fresh perspective on and vision for the future.
Haase has held several roles at MPA since he was recruited here in 1999 by Kordosky. He's been a third grade teacher, substitute coordinator, coach, physical education teacher, and, as he fondly refers to himself, Kordosky's right-hand man. As athletic director at Central Lutheran, Haase got to know and respect Kordosky and MPA, initially from afar. He was thrilled to come on staff.
Through a twist of fate in the form of a blind date, he met and then married MPA alumna Amy (Kemper) Haase '90. His ties to MPA only grew stronger. "I've always wanted to grow into Joe's position, but in all honesty, I didn't think it would happen as soon as it did. I've always loved to organize. That's one of my strengths. I cherish a moment to arrange my Post-it Notes," laughs Haase.
When asked what he likes about his new role, he followed suit with what Kordosky has often said: "We are one of the few schools that provides opportunities for all students, not just those who are good at a particular sport. With a no-cut policy, we find a place for everyone," he says. "And we really value the team concept because we thrive on relationships here at MPA. Our passionate coaches take pride in that. It's not about the wins. It's not about the losses. It's about the relationships—not only today, but for many years to come," he says.
There's room for growth in athletics at MPA, and Haase sees that: "Participation is down because specialization (intense training in one sport year round) is hurting us," he says. This is not an issue unique to MPA, but a phenomenon becoming increasingly common. "We are in a society that supports this idea, but I am worried about the athletes using the same muscle groups year round and not getting the rest they need. Research study after research study shows that this promotes injuries, burnout, and does not lead to greater achievement in athletics," says Haase.
So Haase is on a mission to encourage students and families to choose MPA athletics first and to participate in a wide variety of sports. "The pressure will be less and the financial impact will be less. The coaching will be better and the competition is phenomenal. The Independent Metro Athletic Conference (IMAC) is one of the strongest conferences in the state because of the quality of the programs our schools have. That makes for a great competitive environment for our kids," Haase says.
For those students who want to play sports at the collegiate level, Haase assures them that they will find a place: "I always tell students that if they really have the desire to play at the next level, they will find places to play. But their number one priority should be their education and finding the school that will best prepare them for a future career."
There are several ways that the MPA community can join Haase's mission to grow athletics at MPA, and they start in Lower School. "I love to see families come together in their communities and organize participation on teams as early as kindergarten. Local community education programs most often organize teams based on school attendance, so classes may find that they make up the majority of a team. This is a great way to introduce children to a wide variety of sports at a young age and build camaraderie," he says.
Lower School students and their families are encouraged to attend games and cheer on their fellow Panthers. Admission is free and it's a wonderful way to spend an afternoon or evening. "We can all be advocates for MPA athletics in big and small ways. Students can rally for participation on MPA teams and parents can talk up the opportunities here in their networks. Students cut from teams at large high schools can play here and be really special," Haase explains.
While participation may be decreasing in the sports where specialization is common, it is increasing in other areas.
"As athletic director," says Haase, "it is my responsibility to recognize that and take the steps to respond to the market. I will continue to evaluate what the needs of our students are, make decisions that are student centered, and help them do the activities that they enjoy."
Clearly, Haase sees marketing athletics at MPA as a significant portion of his position. Less than three months into the role, he is now the lead Twitterer behind @MPAPanthers and has grown the number of followers by nearly 20 percent. He launched an online Spirit Store, greatly improving the selection and customization possibilities for the entire MPA community—including alumni.
"There is so much Panther Pride at MPA, and I am working really hard to harness and grow that in new and exciting ways," says Haase. "I invite the entire community to join in the effort, because the future here is very, very bright."
---