Get Involved, Give Back, Stay Connected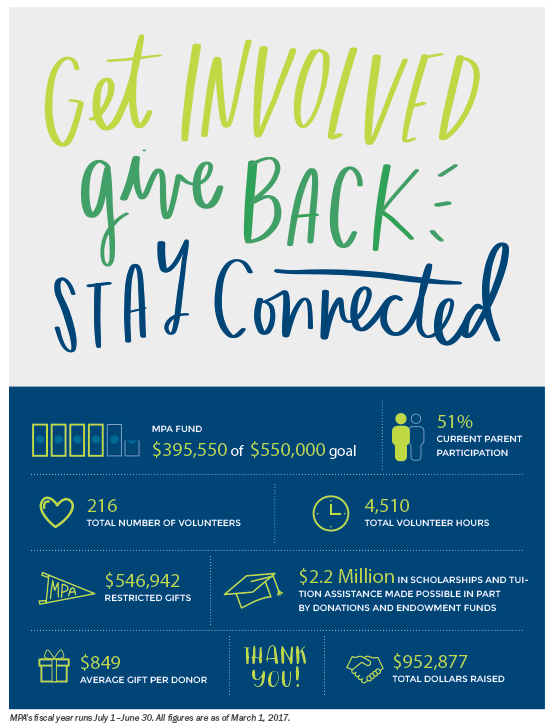 It's MPA. We Help Each Other Here.
Jennifer Gatti
MPA Trustee and Development Committee Chair
When my family came to MPA in 2006, we knew we'd be part of a community—a place where people are personally invested in the school, where students thrive academically and individually, and where we feel welcomed. What we didn't expect was how suddenly the depth and power of MPA's community would come alive for our then five-year-old daughter, realized in the form of the Tooth Fairy.
Claire was in kindergarten, and on this particular fall day she lost a tooth at school. She quickly ran to the nurse's office to package up her prize … and within an hour lost track of that lost tooth. Convinced that the Tooth Fairy would now bypass her, Claire collapsed in the hallway in tears. Without hesitation, MPA's community leapt into action. Two eighth grade girls saw Claire, asked why she was sad, and set out to fix the problem. They found some Altoid mints, gracefully carved one into the shape of a baby tooth, and secured it for the trip home. They wrote a compelling letter to the Tooth Fairy, explaining the situation and offering this excellent substitute. Most importantly, they embraced Claire with respect, compassion, and understanding.
All was well that night—the Altoid tooth and letter were tucked safely under Claire's pillow, and the Tooth Fairy arrived on schedule. When I reached out to the girls to share my thanks, they were gracious but a bit surprised. "You don't have to thank us," they said. "It's MPA. It's what we do. We help each other here."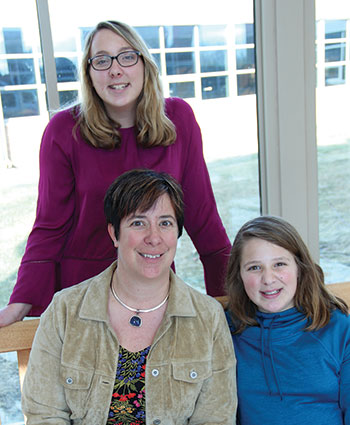 On campus recently with Jennifer Gatti and daughters Claire '19 and Greta '24
In just a few heartfelt words, those wise Middle School students summed up how and why people support MPA. This isn't just an educational community—MPA is a community of commitment, where people give generously in so many ways. Our volunteers plan and staff everything from classroom parties and teacher appreciation days to large-scale events like the annual Book Festival and Spring Auction. Our donors generate more than $1 million in charitable giving each year for MPA's programs and facilities.
Alumni and their parents stay engaged long after graduation, supporting the school as active boosters. Families and friends of MPA rally to fund special projects like the Fab Lab, Virtual Classroom, tennis courts, restrooms, and Upper School Commons. Major gifts are setting the stage for the next phase of capital investment at MPA, including the Makerspace that will debut this fall.
"MPA is what it is because of its community members."
Our faculty, families, students, and supporters have created a vibrant and unique school that radiates excellence and reinforces relationships. It's a place where every contribution counts and where we can all dream big and do right, making a difference today and for the generations to come. It's humbling, wonderful, and inspiring. I'm so grateful for the MPA community, and I'm so glad to be here with you.
---