Six Questions
with
JESS POWELL
Middle and Upper School Health and Physical Education Teacher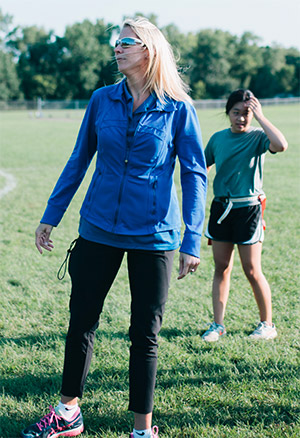 Ms. Powell has quickly acclimated to the MPA culture and brings joy to her students' physical education experiences each day.
WHEN DID YOU JOIN THE MPA COMMUNITY?
I joined the MPA community in the fall of 2017.
WHAT BROUGHT YOU TO MPA?
I met Dr. Hudson at an ISACS conference a few years ago. I was sitting in on a presentation by him and a parent and they were discussing how inclusive and welcoming MPA was to all students and families. I thought I would love to work at a school where everyone can bring their true authentic self to school every day!
WHAT'S YOUR FAVORITE MPA MOMENT?
One was when senior golfer Rachel Lindrud placed ninth at State for girls golf. I was a very proud coach. My other one was when Nate Bander '09 dressed up as Elsa and sang "Let it Go" for the lip sync competition. To see someone really embrace that role and go for it was awesome!
WHAT ARE YOU MOST PROUD OF ABOUT YOUR TIME AT MPA?
Our new recycling program is what I am most proud of so far. I saw that MPA had a need to get something more started and, with the help of my colleagues, we got it off the ground and rolling.
WHAT'S YOUR SECRET TALENT?
I am not sure that I really have a secret talent but I like to think that I am a well- rounded person. I love athletics and sports but I also love to read and occasionally knit (hats and scarves only).
WHAT'S A LITTLE-KNOWN FACT ABOUT YOU?
I am a triplet! I have a brother and sister as part of the three and then I also have a sister who is five years younger than me.
---