Alumni Now
For more than three decades, MPA has engaged thousands of students in a transformative college-preparatory education that empowers them to think independently, act with integrity, and achieve their goals. MPA has been a springboard for our students' ongoing success, allowing alumni to excel in their chosen fields while remaining deeply connected to MPA's entrepreneurial spirit.
A Message From The Alumni Association Board
Mike Velin '06
Alumni Association Board Member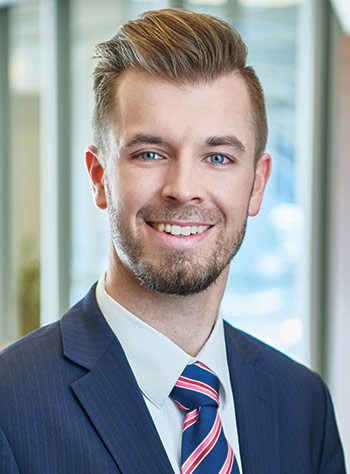 As a child, two things stood out: I wanted to be an architect so I could help people build their dream homes; and my parents introduced me to the concept of budgeting before the age of five. As I grew, my passion for helping people achieve something they couldn't do alone continued.
After graduating in 2006, I tried to replicate the MPA culture at St. John's University, and then at St. Thomas University for my graduate degree. Although I didn't end up being an architect, a close mentor of mine from MPA helped shift my focus to personal wealth planning. I realized that people don't just have one dream, but many, and there is no greater way to help them achieve those dreams than by being by their side every step of the way.
This past year has been a whirlwind. My wife, Ashley Cooper (see page 14), and I got married in November after completing two marathons— Eau Claire and NYC! We also bought a house that we are remodeling, in hopes that one day it'll be as clean as the day we bought it.
I've been active on the Alumni Association Board since 2010. I've always felt a deep indebtedness to MPA. I came to MPA from a public school and was immediately behind, but never once did I feel inadequate or out of place. My first day at MPA truly feels like the first day of my life. The school and my friends have pushed me well beyond where I ever thought I would be, let alone where I ever could have gone alone. MPA instilled in me the desire to help others. That's why I do my best to continue to support our growing community, in hopes that one day someone is able to say the same thing about the work we do.
I was recently at an MPA vs. SPA basketball game (spoiler: we won!) and after hearing the student section loudly singing the Mmmm-PA, Mmmm-PA, Mmmm-PA-PA song all these years after Mr. Ed left, I realized that what made MPA so special for us continues to make it special for the students today. That secret sauce is what continues to draw me back.
So I ask you…what's your why? Why are you doing what you're doing? Why are you the person you are? For most of us, we can track it all back to the same commonality: MPA. So how are you going to help others continue realizing their dreams?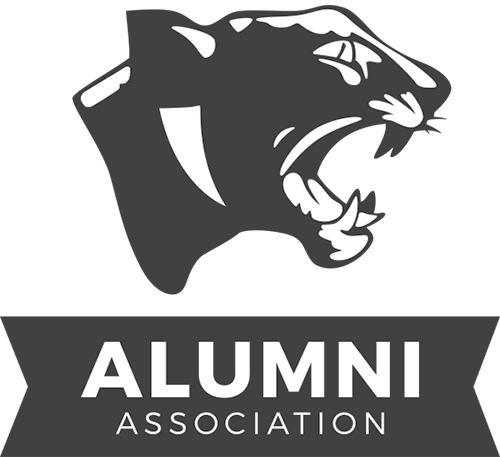 2017-18 BOARD OF DIRECTORS
Annie Stewart '11, Chair
James Cordon '97, Vice Chair
Michael Velin '06, Treasurer
Nate Bander '09
Karl Berget '07
Jeremy Drucker '97
Andrea Heil '10
Peter Kieselbach '06
Erica Isaac
Christopher Parish '95
Vance Ryan '08
Jacob Schwartz '09
Michaela Toohey '96
Jessica Wong '05
Special Liaisons:
Dana Boyle
Nansee Greeley
If you are interested in joining the Alumni Association Board of Directors, please email us. We are currently accepting nominations, which will be reviewed during the May board meeting. Thank you for getting involved!
---
SPRING AUCTION
UNDER THE BIG TOP
Get your alumni tickets at a reduced price today! Join us on Saturday, May 12, at the JX in Stillwater for this fabulous community-building event that allows parents, alumni families, faculty, and grandparents to connect, enjoy an evening out, and take home some fantastic auction items, all while supporting the school that brings us together! All proceeds will support your alma mater and benefit freethinkers and free spirits just like you. Visit moundsparkacademy.org/springauction. We can't wait to see you there!
ALUMNI UPDATES
ROSE MILLER '06 was honored with the Values Award by the Animal Humane Society for her outstanding work as the social media producer.
LOGAN ERICKSON '15 was awarded the prestigious international title of IGDA Scholar from the Independent Game Developers Association Foundation. Logan was one of 18 recipients in the world to receive this honor in 2018.
ERIN LAW '12 received a Crystal Pillar Award from the Chicago/Midwest Chapter of the National Academy of Television Arts & Sciences. Erin's documentary, created with Megan McKinley of California, was "Dress For Success." The mission of "Dress For Success" is to empower women to achieve economic independence by providing a network of support, professional attire, and the development tools to help women thrive in work and in life.
JACOB SCHWARTZ '09 was named the Mounds Park Academy Boys Basketball head varsity coach this fall, and has coached the team to incredible success. MPA is so grateful to have Jacob coaching the next generation of athletes!
EVAN FERLIC '15 received the Big Ten Sportsmanship Award for the University of Minnesota-Twin Cities Men's Cross Country Team.
THE GOLD SOCIETY
We are happy to highlight our young alums for their involvement and generosity with the GOLD Society! Graduates of the Last Decade who contribute $25 or more will be recognized for their support. Thank you for supporting MPA!
Sign up for our e-newsletter! Send your contact information to alumni@moundsparkacademy.org to receive Alumni News featuring fellow Panther alumni, upcoming events, reunions, and more.
Reunion Weekend September 28 and 29, 2018
Mark your calendar for Homecoming and Reunion Weekend 2018, September 28 and 29, 2018! Classes celebrating their Milestone Reunions include 1988, 1989, 1998, 1999, 2008, and 2009. More information will be sent in the coming months about the on and off campus events for all alumni. We are looking forward to welcoming you home!
YEAR OF 100 STORIES
It may be hard to believe, but MPA has graduated more than 1,500 alumni in its 35 years of existence—from 1986 through the spring of 2017.
We are working hard to collect your stories and design a more connected and productive network that works for you and the entire MPA community. This year, the MPA Alumni Association is launching the Year of 100 Stories. We hope you'll tell yours.
Your stories will inspire current MPA students, give your former teachers the excitement of knowing what you're up to, and allow us to begin a mapping project to better connect alumni to other professionals throughout the MPA community. Our reach is growing every year, and your collective life journeys are at the heart of what makes an MPA education exceptional.
Go to moundsparkacademy.org/alumni to tell your story!
---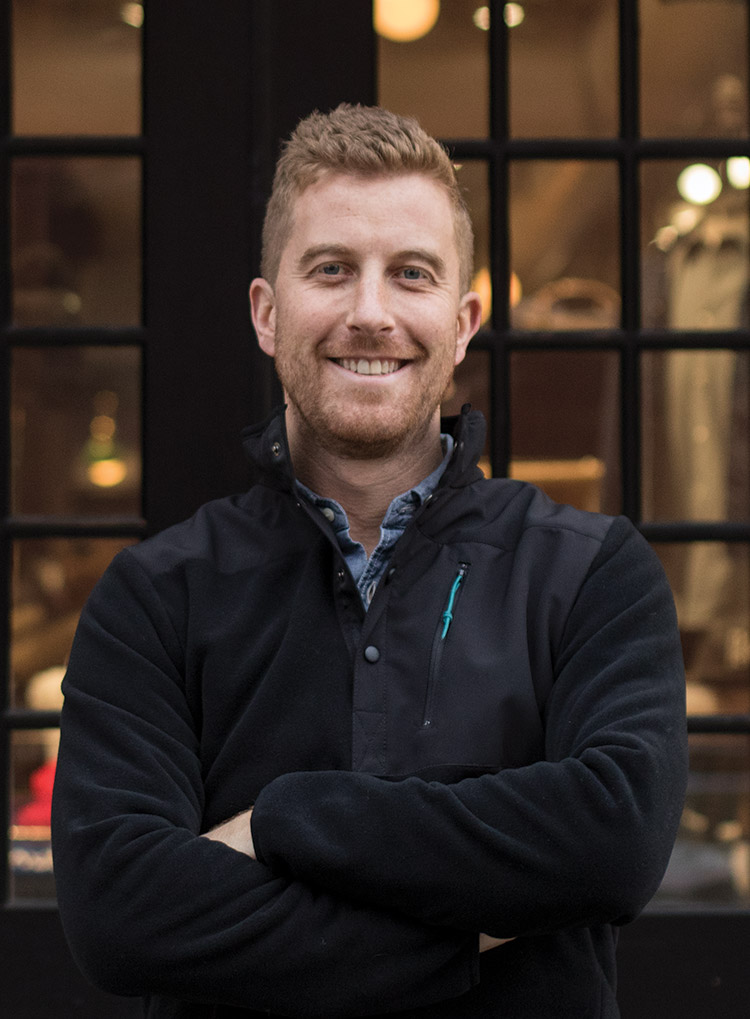 Fetcher left Patagonia and followed his heart to Minnesota and Askov Finlayson. Here, he is pioneering a business model to create a net climate benefit.
Finding Richness Through Balance
Adam Fetcher '02 is a typical well-rounded MPA alumnus. "I played basketball and soccer, was in three bands and three choirs, and participated in theater." He grew up in North St. Paul and by middle school, his parents decided to invest in the great academics and diverse opportunities that MPA offered. At this small school he and his sister Anya could get involved in many activities, as opposed to specializing in only one or two interests at a larger school.
An appreciation for trying new pursuits was baked into Adam's essence. "The MPA culture made it cool to be smart, and I developed a lifelong curiosity," he recalls. "My teachers really influenced me, introducing me to politics, activism, and thinking seriously about the world."
After graduating from Carleton College, Adam got involved in politics as a field organizer in Florida for former President Obama's 2008 campaign. This opportunity to effect change fed a passion and sparked his interest in public service. He moved on to several positions within the Obama administration and, while the pace was hectic and the job intense, the progress was exhilarating.
Following Obama's re-election campaign, Adam shifted into the business world, landing a dream job leading global communications for Patagonia. "Patagonia operates like a political campaign," he shares. "They have a great mission to improve the environment and the lives of people around the world."
Adam's philosophy about balance was largely shaped by Patagonia's Founder. Yvon Chouinard coined the term "80-percenter" to describe those who opt to continually take risks and try new things at the expense of becoming a serious expert in a single field. "I'd rather be at the 80 percent performance level in many different areas," Adam shares. "It takes resilience and self-confidence to let go of striving to be the best at sports, have the most friends, attend the top college or however society defines success. It's important to find the right personal mix and cultivate the spirit of adventure."
Following his heart when a long-distance relationship called him back to Minnesota in 2016, Adam landed a great job with Askov Finlayson, the outdoor clothing company owned by Andrew and Eric Dayton. As vice president of environmental impact and policy, he leads climate policy efforts supporting the company's mission to "Keep the North Cold." Adam's excited to grow the company into a national brand, bringing vision and passion to the job. Embracing a big-picture perspective, he believes "businesses need to strive for longer-term benefits to a diverse set of stakeholders, not just maximum return to shareholders. At a time when our political system is not getting the job done, it's up to business leaders to step up courageously and create benefits for people and the planet."
Adam's philosophy to let go of immediate gains in order to reach for the ultimate goal reminds us that striking a balance takes discipline—but it's worth it.
---

Committed to Science and Storytelling
Meet Blair Benham-Pyle '06, a passionate scientist on her way to solving important scientific questions destined to improve our world. Blair is doing her post-doctoral research in regenerative medicine at the Stowers Institute, a highly innovative center for biomedical research. She's currently immersed in studying the cute, but highly unusual, planarian flatworm, an organism that exists by breaking apart and cloning itself. Unlike other organisms in the process of regeneration, these worms amazingly do not get tumors or show signs of aging.
"My job as a scientist is to understand—through rigorous study in the lab—how they are able to control stem cell growth so robustly that they can protect themselves against cancer and aging," explains Blair. "We want to know their life strategies and how a tiny group of cells can be cleaved off without damaging their basic blueprint. In layperson's terms, we are trying to break apart that black box and apply our discoveries to improve human health."
Blair has always had the heart and mind of a scientist, recalling her many opportunities to experiment at MPA and delve deeply into subjects of interest with her teachers. She appreciates that she was given freedom to explore across many disciplines, including ethics, constitutional law, and writing. Evidence of these skillsets is seen in her work today.
"As a scientist," she reflects, "I believe storytelling is especially important. We have to be able to study the esoteric mysteries of the subjects we research, while communicating effectively to funders and other stakeholders the ultimate value of the idea we wish to pursue." Asked how her work will make the world a better place, Blair explains, "Essentially, if we want to solve problems of aging in humans or how to repair damaged tissues, one strategy is to study organisms that don't suffer from aging or develop cancer—ones that are able to reverse damage through healthy and controlled regeneration."
There is a palpable passion in her voice as she describes her work today. And Blair is very much the epitome of the well-rounded MPA alumna. When she graduated as a member of the 13-Year Club and headed off to Yale University, she took with her a profound sense of curiosity, courage, and agency to direct her own intellectual interests. A trip to study forests in Ecuador during her sophomore year inspired her to pursue a joint Bachelor of Science and Master of Science degree in biophysics and biochemistry. She then did a year-long internship on a Henry Luce Scholarship in Shanghai, affording ample opportunities to enjoy travel throughout Asia. Blair obtained her Ph.D. at Stanford School of Medicine in cancer biology. Her college career, however, was not just limited to academics. She co-founded the Yale Bio-Ethics Society and at Stanford, served as president of the Bioscience Student Association on campus, finding a way to blend science with community engagement.
MPA wishes Blair continued success as she pursues this incredible work.
---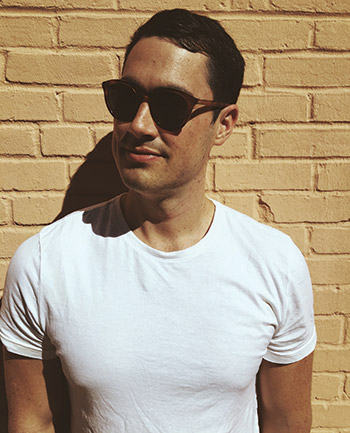 Technology, Values, and Advice
David Siegel '04 is a techie, philosopher, and creative thinker. Blending his love of technology with a sensitivity to human flourishing, he is driven to understand how technology affects people. "I'm naturally skeptical of the techno-utopian tenet that technology will inevitably create the world we want," he shares, "so I'm concerned with building technologies consistent with our core values."
Currently working as a design leader at Microsoft in San Francisco, he also recently founded a company around his open source project, quicktype.io, which he summarizes in layman's terms as "autocorrect for data." After eight months since David began working on quicktype as a side project, it's approaching 30,000 monthly users and is snowballing in popularity with developers. He expects to reach 100,000 users per month and to build a business on top of the open source foundation this year.
During his years at MPA, David gravitated mostly toward Spanish, film, writing, and critical thinking. He especially loved arguing contentious topics with others, which was encouraged at school. He was also personally motivated to seek knowledge about emerging technologies, and MPA's laptop program was vital.
After graduation, David attended the University of Pennsylvania, where he earned dual degrees in philosophy and computer science engineering. Despite graduating summa cum laude and Phi Beta Kappa, he admits he has never used his resume and has reported directly to the CEO at every position he's held (until joining Microsoft via acquisition in 2016).
DAVID'S ADVICE TO MPA STUDENTS
"Understand that college is valuable because of what it does to your brain, so treasure the opportunity and learn as much as you can about the things that interest you most. There is a lot of confusion about whether or how higher education is valuable, especially in the tech world, but the benefit of education is real and enormous, and you're incredibly fortunate to have access to it."
"Develop your own theories about problems that interest you, seek out people working on those problems, and explain your ideas to them. View professional challenges as opportunities for creative thinking and devise your own solutions to these problems, rather than succumbing to pressure to behave uniformly."
"Keep learning and thinking," he says. As a designer, David continues to explore the role of technology and how it can better serve our values. Check out one of his older projects, iamfutureproof.com, for more on this topic. "Futureproof is a collection of articles, experiments, and tools that enrich your life by helping you develop a more sophisticated relationship with technology," he shares.
"Learn to think, listen, and argue as clearly and honestly as you can. Be present and pay attention when communicating. If you want to be a leader, be the person who can get others to shut off their technology and listen to you—control the distraction. Also, read the book, The Beginning of Infinity: Explanations that Transform the World by David Deutsch."
---