Soccer at MPA is a Common Thread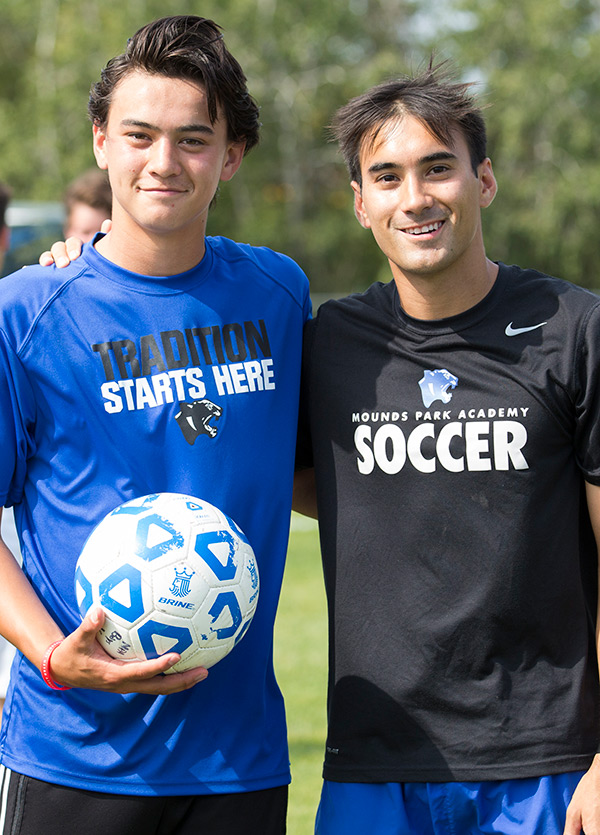 Nicholas and Matthew together on the soccer fields during Homecoming 2017.
Nicholas Guiang '18 is continuing the tradition set by his three older brothers to play soccer for MPA—and doing it with gusto. Like his siblings, he's experienced both individual and team awards, but best of all, his older brother Matt is head coach of his team.
Soccer has been a passion of the Guiangs and played a role in challenging and channeling Andrew '08, Matthew '11, Eric '14, and Nicholas. In fact, 2017 marks the 17th straight year that one of them has played in an MPA jersey. All four played soccer with another brother at some point during their time at MPA—often on championship teams.
Aside from the great experiences offered through sports, all four brothers feel grateful for opportunities to participate in music and academic pursuits, helping them become more well-rounded individuals. As Andrew notes, the experience "better prepared [them] for everything that came after MPA."
This reflects values that their parents—Dr. Jennifer Mehmel and Dr. Sixto ("Ex") Guiang—emphasized in raising their boys.
Jennifer says, "We've always tried to instill in our sons a strong work ethic, a spirit of adventure, and the importance of living a life of service and gratitude. We've been lucky, mostly. We have deep family connections, we had a great caregiver for our young sons, we have a strong church community, and we chose an excellent school, where our boys were challenged, offered innumerable opportunities, encouraged to try new things, and supported by faculty and staff. Each boy eventually found a strength we might never have known existed; soccer is only one example of that."
Where Are They Now?
Andrew currently attends Cornell Law School, after graduating from Georgetown University's School of Foreign Service and serving in the Minneapolis Public Schools through Teach For America.
Matthew graduated from Washington University, majoring in Geophysics, and interned with the U.S. Department of Energy. When not coaching at MPA, he spends winters skiing in the Rockies and working for an action sports media production company. He plans to also attend law school.
Eric is a Senior at Bowdoin College, majoring in Chemistry and serving as Manager of Bowdoin's Outing Club. A true adventurer and outdoor enthusiast, Eric canoed 500 miles to the Arctic Ocean following his MPA senior year.
Nicholas continues to focus on sports and music in his senior year at MPA, and is not likely to hang up his spikes as he heads off to college next fall.
Mounds Park Academy will miss having one of the Guiang brothers in school on a daily basis, but we know they'll continue to circle back and stay involved in the MPA community. By now—parents included—MPA is in their DNA and they're in ours!
---