Five Questions
with
MIKE SCINTO
Physical Education and Health Teacher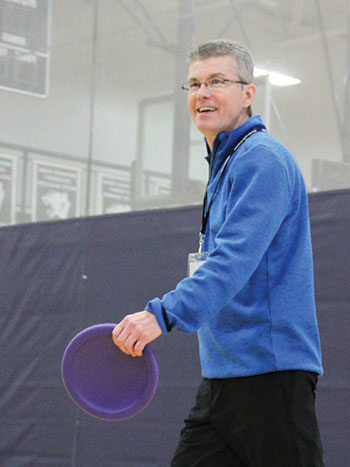 Mr. Scinto cares deeply about all of his students, ensuring they have exceptional experiences in the classroom and on the fields.
WHEN DID YOU JOIN THE MPA COMMUNITY?
I came to MPA in August of 1987. I have taught Lower, Middle, and Upper School physical education classes each year. For the last 15 years, I have also taught health to fifth and sixth graders.
WHAT BROUGHT YOU TO MPA?
After graduating from college, I accepted a teaching job in California where I lived and taught for four years. I always looked forward to "coming home" and living in the Twin Cities again. I applied to be a physical education teacher and Girls Soccer coach at what was then a very young MPA. I was thrilled to be offered the position!
WHAT'S YOUR FAVORITE MPA MOMENT?
When the Girls Soccer Team won the Section Championship and qualified for the State Tournament in 2002. We were up against a state power in Simley High School and our team played an unbelievable game, winning 1-0. That team's group of players, and the years on both sides of that senior class, were remarkable individuals and student athletes at MPA. They helped build a strong school and soccer program. Our success was even more memorable because at the same time, across town, our Boys Soccer Team also won their Section and qualified for State.
WHAT'S YOUR SECRET TALENT?
I'm a pretty good rope jumper.
WHAT'S A LITTLE-KNOWN FACT ABOUT YOU?
One of my bosses at MPA was once a student of mine in physical education and the captain of the soccer team that I coached.
---