Parent Passion Creates Steam Club
I see leadership, courage, collaboration, creativity, and resilience every time I volunteer. These are the characteristics that make great men and women.
Karl Anderson
Lower School Parent Volunteer
Born from a parent discussion group, STEAM Club has become the place to be after school at MPA. With winter and spring sessions topping nearly 50 percent of the Lower School enrollment, it is clear that this type of engaging, collaborative programming is what students (and their parents) love.

---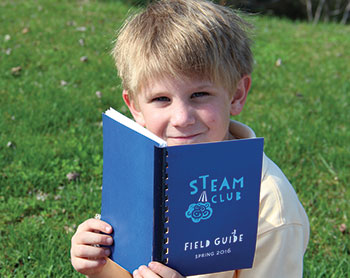 "Our parents are so passionate about STEAM. They all have a variety of backgrounds that feed into the curriculum and the program design," said Nicole Koen, academic technology coordinator and STEAM Club co-advisor. From simple experiments with the PreK through first grade students, to following the scientific process with students in grades two through four, each week's activity is age appropriate and always experiential.
Parent volunteer Mikki Williams explained a recent project she appreciated because it felt like play, but truly introduced scientific theory: "I would typically never have a conversation with five-year-olds about 'air pressure.' However, through STEAM Club, it's now part of their world, and they learned it by simply shooting paper rocket ships off of the end of straws. They learned that the harder they blew, the more distance they achieved. They learned that 'leaks' in the structure inhibited success. And their giggles were infectious!"
As is typically the case at MPA, students are gaining much more than just knowledge in the STEAM disciplines. "I see even the littlest students trying things over and over again. They are becoming so persistent. And while most of them are able to do everything on their own, they are also happy to ask for help, which is really important. They are asking questions and solving problems in ways that build their creative confidence," said Debbie LaChapelle, PreK teacher and STEAM Club co-advisor. "I love how each activity is open ended and that we never place limitations on the students' ideas. It's just like preschool, but blown up!"
While the winter sessions may focus on topics like air pressure, coding, circuits, ziplines, and acceleration, in the spring, all eyes turn outside as students become "citizen scientists." They explore the extensive rainwater gardens and pond on campus, studying and monitoring the plants, water quality, and native animals. By combining scientific research and lessons in citizenship and social action, students gain a greater understanding of the environmental issues facing our world and how their knowledge can serve a greater purpose.
The inclusion of art in this afterschool activity was seen as essential from the beginning. "To be a scientist, you need to be creative and look at things from different ways," said Koen. Sally Richie, STEAM Club parent volunteer couldn't agree more. "I believe that art has been overlooked by many educators, parents, and students as merely a form of drawing or rudimentary technique. However, art is a critical piece as it helps in the design component of engineering and technology. The combination of all five areas make creations limitless," she said.
"Each week, our volunteer sign-up is full, but our parents keep coming because they know they are welcome, valued partners. This program would not run like it does if it weren't for the parents and their involvement, their excitement, and their support of STEAM at MPA," said Koen.
---