Dedication Throughout and Beyond A Lifetime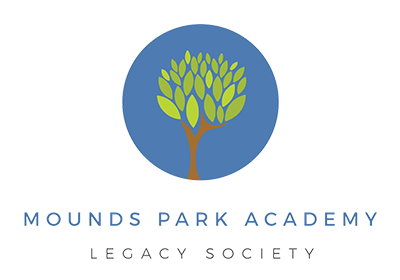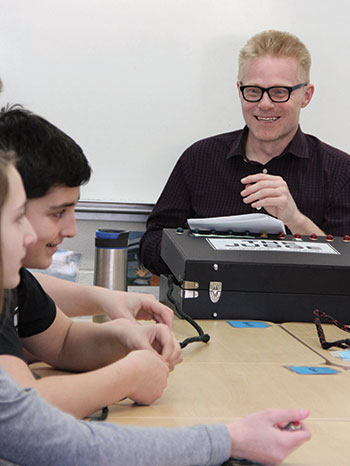 The individualized focus has never been lost here. The similar feeling in how close you are to your classmates and friends has never been lost despite the increased size.
Wade Peterson '87
MPA Legacy Society Member
Wade Peterson '87 shares why where you want to leave your legacy is important—and why his will remain at MPA through planned giving.
"The first time I came to Mounds Park Academy was in May of 1983. I visited as an eighth grader to see if I wanted to attend the school. I had lined up visits to multiple schools, including other local independent schools. I visited MPA, canceled all of the other visits, and I came here," says Wade Peterson, a proud member of MPA's second graduating class in 1987, composed of 19 students. Instantly attracted to MPA then, he continues to be a staple in the hallways, both for our students and for the school.
When asked why his parents were willing to take a risk on such a new and innovative school, Peterson explains. "I was somebody who was really happy to be anonymous—not really causing anyone any trouble, but not really doing anything either—so my mom was worried about that," says Peterson. "She was somebody who was not very risk averse in education, so I think she was intrigued by this new school and really liked the sound of it."
"It was just amazing how happy the students were. It was very different. Instantly I wanted to come to school every day," he recalls fondly. "There are a lot of similarities to this day. The individualized focus has never been lost here. The similar feeling in how close you are to your classmates and friends has never been lost despite the increased size."
After graduating, Peterson went to the University of Chicago and then transferred to and graduated from the University of St. Thomas with a degree in anthropology. While working on his teacher certification and post-baccalaureate program at St. Thomas, he substitute taught at MPA from 1999 to 2001. He moved to Oregon to take his first teaching job and was there for six years. "When I was moving back here, I saw that John Edmondson, the Quiz Bowl coach, was retiring. I approached Robbie Seum, then-Upper School director, about the position and that's how I was able to come back."

Since then, Peterson has been willing to assist or lead where he could. While building his private college counseling consultancy practice, he substitute taught, filled an interim world history position, proctored exams, coached sports, and continued to coach the extremely successful Quiz Bowl teams at the Middle and/or Upper School levels (varied by year).
In 2010, he was brought on by Breakthrough Twin Cities to lead its college counseling. This nonprofit organization based out of MPA prepares under-resourced students for college success and cultivates the next generation of educators. He works with 80 students in 20 different high schools each year and is the first and only college counselor the organization has ever had. "This is the greatest job I've ever had. I really enjoy working with first generation college students, and it's been an incredible experience," he shares. "I still coach soccer and baseball for Middle School, and quiz bowl. I'm still here for MPA in some capacity."
Of course he is! Yet another way he has been here for MPA is as a member of the MPA Alumni Association Board of Directors. In that role, Peterson was one of the first members of the Legacy Society in 2008. "I'm not somebody who's going to have big money necessarily, but I think it's important to think about where you want to leave your legacy."
"It's an easy way that you can continue to contribute after you're gone. MPA is a very special place and the Legacy Society members will help keep the school sustainable over time. Every little bit counts, as they say."
The MPA Legacy Society honors families and individuals who have made provisions for Mounds Park Academy in their estate plans that will provide for the school's future. For more information about planned giving and joining the Legacy Society, please contact Matt Magers, Director of Development, at mmagers@moundsparkacademy.org or 651-748-5532.
---