Inspiring Teaching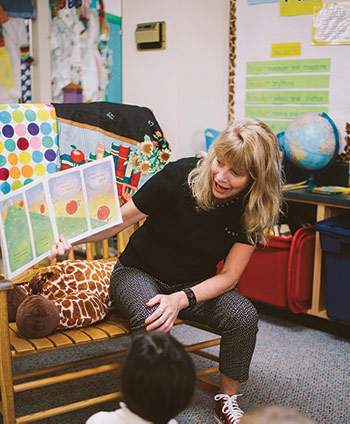 with
Kristine Petersen
"Ms. P. knows how to teach children. She was born for it and you can tell she is living her dream from the smile that is always on her face," says Nicholas Guiang, a senior at MPA who fondly remembers his time with Kristine Petersen, also known as Ms. P. or Ms. Fouks. She exudes the kind of passion for education and for people that is contagious, not just in the kindergarten year, but throughout her students' lifetimes.
Petersen came to MPA in 1988 as a long-term substitute teacher hired by then-Lower School director, Joanne Olson. For 30 years, she's shared her gift with hundreds, witnessing her students and the school grow roots, mature, and evolve. "The one constant is this—all of us in the community are given the opportunity to be who we truly want to be and thrive. We are given the gift to grow, develop, learn, explore, and inspire—it's lifelong."
Kindergarten at MPA goes so far beyond sight words, days of the week, and observing the weather. While important, these foundational skills come naturally and easily through the robust academic curriculum. What makes kindergarten at MPA special is the sincere focus on inspiring good character and finding joy in learning. Petersen boldly models these attributes for her students.
One of her favorite units was "Birthdays Around the World." The classroom traveled the globe, learning by "visiting" different countries. They discussed special meals, songs, games, and activities done to honor a child in a country on their birthday. She shares, "When we studied and then traveled to Haiti, I would hang palm trees from the ceiling and bring in real swimming pools. The kids were actually swimming in my classroom! We danced and we sang and we celebrated with such joy."
She continues, "I'll never forget when one of those pools flooded my classroom after a child put pressure on one side. It was awesome! Thank goodness I learned early in my career the facilities staff is extremely important in helping me create the atmosphere and the environment that I want for my students. It's never just about one person impacting these children—the entire community inspires my kindergarten students."
Her loving personality is something that I will always cherish and always love to see and feel. It's hard not to go back to her class to show the person you have become and what impact she made on your life.
Nicholas Guiang
Class of 2018
Senior Quinn Campbell, explains the impact Petersen had on her. "Ms. P.'s personality helped me become a better person to this day. I live a better life because she helped us learn how to learn and still be able to act like children."
While CHAMP, the formal Lower School character education program at MPA, did not exist for most of Petersen's career, every MPA teacher focused on developing each child's social and emotional skills in order for them to reach their full academic potential.
Senior Rachel Lindrud shares, "Ms. P, like many MPA teachers, has been essential in teaching me how to properly and respectfully live in society. She always found a way to help us learn from our mistakes. As a result, I now know how to gauge one's feelings, share, and how to be a good friend in any situation."
When asked how she makes that possible, Petersen says, "We take the time to ask questions of all children: What are you feeling? How did you make your friend feel? What could you have done differently? Through questions, students can understand how to solve problems, respectfully express themselves, and feel good about the resolution. These skills help them be happy and emotionally grounded—prepared for anything that comes their way."
---