Real Opportunity Since 1982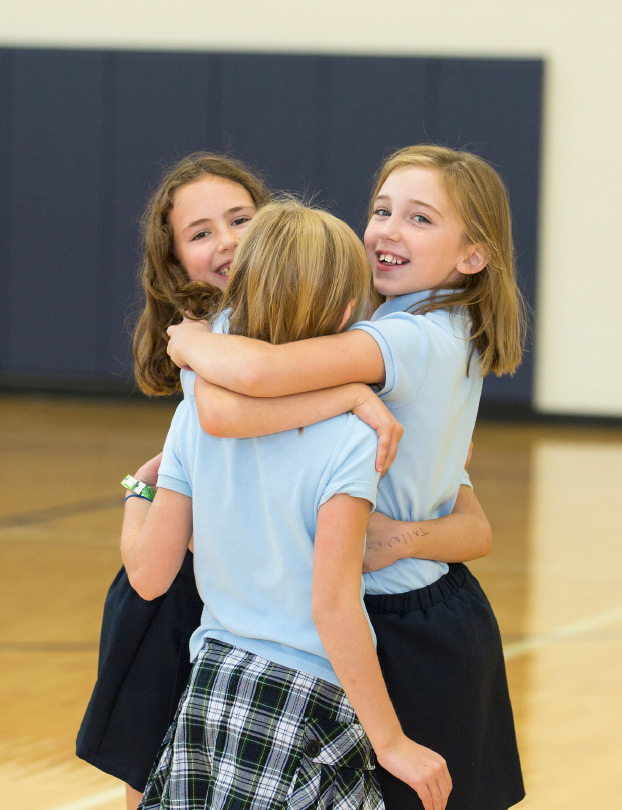 At MPA, we move, we play, and we get sweaty. Whether it's on the playground, one of the Lansing Center's four courts, or the athletic fields, we are actively striving to push our limits in endurance, strength, agility, and quickness. And that's how it's always been.
The school was founded in 1982 upon the belief that children would be successful if their whole beings were nurtured. So, from the very beginning, physical education was an important curricular offering. Katrina Stoltz was MPA's first and only physical education teacher, and also served as athletic director for the competitive teams that MPA initially offered: Boys and Girls Soccer, Boys and Girls Tennis, Boys Basketball, and Boys Baseball.
"Our goal in physical education has always been to help students find the joy of being active—maybe they will become a distance runner to stay in shape or play on an intramural basketball team to meet new people. And we have always really emphasized how they should carry themselves in those settings—with class and sportsmanship," says Dave McGaha, physical education faculty member and coach since 1983.
As MPA grew through the mid '80s, so too did the competitive athletic programs. "By the fall of 1989, the school was bursting at the seams," says Joe Kordosky, MPA's athletic director from 1989 to 2017. "We were oozing with energy and looking to grow all of our programs."
However, the obstacles were great. The facility was holding the school back and preventing membership in an athletic conference. The Kreischer Gym had a tile floor and the outdoor track was made of cinders.
"What we lacked in facilities, we had in parent involvement and enthusiasm," Kordosky explains. "The very first Best of MPA [now known as the Spring Auction], supported the transformation of the Kreischer Gym floor, helping us enter the Tri Valley Conference."
The school's first conference championship came in the spring of 1994 when the Girls Track and Field Team, who were still practicing on the cinder track, won. MPA is now a proud member of the Independent Metro Athletic Conference and throughout its history has achieved 20 individual State Championships and nine team State Championships—all with a no-cut policy that encourages everyone who is interested to participate.
Many parents continued to come forward to support the growth of MPA athletics. In 2006, gifts from the Lansing and McKeown families led the way toward the state-of-the-art facilities we enjoy today. "We thought the skills, lessons, and health benefits for all students could be game changers in their lives. When families make a decision to support an institution with a contribution, one hopes that the intent blossoms into reality throughout the following years. We are humbled to see the innumerable and creative ways that the athletics staff, faculty, administration, parents, and all students have embraced what it can offer, and are truly using it with great intent," says Tom Lansing, parent of alumnae.
The idea that athletics are for all students is uniquely MPA. "Our kids don't have to specialize here, because if you want to run track, there's a place for you. If you want to play basketball, there's a place for you," says McGaha. Here, students do not need to choose between their passions and will always find a place on a team.
"To me, the coolest thing is the real opportunity kids have to get involved here. They get a taste, develop some passion, and all of a sudden they are Declan Dahlberg [a multi-sport State Champion]. The opportunity at MPA is real," says Kordosky.
---