Leaving a Legacy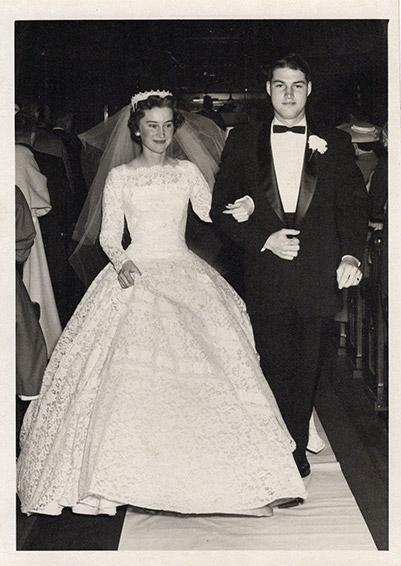 Beverly and Fosten Boyle
Impact Generations to Come
Fosten and Beverly Boyle left a generous $100,000 planned gift to MPA's endowment upon their passing. They had come to know and love the school as volunteers, committee members, and beloved grandparents of five students, Brendan Boyle '14, and Olivia '18, Cecilia '20, Sylvia '24, and Julia '25 Hawley.
After the late Bradley Boyle and his wife, Dana, chose MPA for their son Brendan, Amy and Chris Hawley were close behind, much to the delight of Fosten and Beverly. "They grew up knowing MPA as we did through the years," reflected Amy Hawley. "They became immersed in many different ways, fell in love with the community, and clearly saw the benefits. They saw the level of education, which my father would always place a huge value on, as well as the emphasis placed on character development."
Fosten and Beverly came from humble beginnings—Fosten was a first-generation immigrant from Canada. Hawley explained: "His entire family immigrated from Canada. One of the main reasons my grandparents chose to do that was to get a better education for their children. All three sons graduated from Mahtomedi and all three went to college, too."
After meeting in high school, Fosten and Beverly were married for more than 50 years. Fosten served in the Army and Bradley was born just after his return from duty. Fosten worked at the Red Owl grocery store before moving to human resources with Hamm's Brewery and then Honeywell. "He was the vice president of human relations at Honeywell and served on the executive team. He did that for 12 years, which is quite unheard of at that level and speaks volumes as to who my dad was," Hawley shared.
"The house was my mom's job and she did it very well!" Hawley laughed. "If you speak to anyone who knew my parents, they would remark about their strong partnership. They were always a team and they had a very solid marriage. Even though my dad was successful, everyone knew how much my mom supported my dad and vice versa."
To have a school that sets kids up for the best possible success is hugely important and valuable. It didn't surprise me at all that my parents were going to continue to invest in that beyond their lives.

Amy Hawley
MPA Parent and Daughter of Beverly and Fosten Boyle
Hawley recalled a very difficult time in the family's life, which inspired her parents to make provisions for MPA in their will.
"They probably decided to leave a legacy gift after Bradley passed away suddenly in 2008. You see the school through a different lens when something like that happens. The support that our entire family received was remarkable. If they had a commitment prior to that, I know they made a larger one after that," said Hawley.
In the years to come, Brendan was their connection to Bradley and they were overjoyed to see Brendan thrive at MPA. Beverly was able to see Brendan graduate, an achievement that was very important to them as a couple. "That's some of the meaning—it's hard to put that into words," shared Hawley.
Beverly and Fosten were thoughtful givers who gave to improve our world, not for public recognition. "They didn't give to many places upon their passing. If their heart moved them and they believed in the cause, they gave. By giving to MPA, they were investing in a place that was very important to the whole of the family," Hawley shared.
After graduating from MPA, Brendan went to North Carolina State University, where he is a pre-med major. All four of the Hawley children are thriving on campus and benefitting from the gift of their grandparents, who would be so proud to see just how each of them is blossoming. "Our entire family wants to see the school succeed for generations to come. A strong education is the key to a successful life, however one chooses to define that. To have a school like this, that sets kids up for the best possible success, is hugely important and valuable. It didn't surprise me at all that my parents were going to continue to invest in that beyond their lives."
---